Plantation Field a favorite venue for local rider
09/18/2013 12:56PM ● By Acl
Erin Sylvester schools Paddy the Caddy in preparation for Plantation Field Three Day Event.
By Nancy Johnson
Correspondent
"I love Plantation Field. It's my hometown event and all my clients come over to cheer us on," Erin Sylvester said.
At 28, the Unionville resident has earned the recognition she is receiving, not only at Plantation Field -- which takes place in Unionville from Sept. 20 to 22 -- but also as a rider with the potential to represent the U.S. in international competition.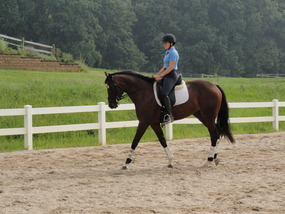 When she says event, Sylvester is referring to the equestrian sport known as the three-day event, or eventing. In the simplest terms, the competition can be described as a triathlon for horse and rider.
The first day, the horse and rider compete in dressage. In an arena, they individually perform a test consisting of an exact sequence of movements. No jumps are involved; this phase is the only one that is subjective, judged on the pair's harmony, along with the horse's balance, rhythm and obedience.
The second phase consists of a physically challenging cross-country course composed of poles, stone walls and the like, as well as water obstacles, ditches and banks. The rolling countryside at Plantation Field is ideal for such a course, and unlike many other venues, it allows spectators to see a large portion of the course from one location.
Show jumping, on the final day, tests the horse and rider's technical skills as they negotiate a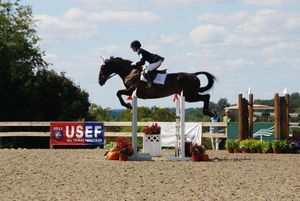 course of jumps in an arena. Unlike the cross-country jumps, these jumps are designed to fall if only grazed by a horse's hoof. Penalties are incurred for dropped rails as well as a horse's refusal to jump. Like the cross-country phase, a specific time allowance is set for the course, and exceeding it will add faults.
Sylvester grew up riding in Massachusetts, but when it came time to go to college, she chose University of Delaware to be close enough to train with two-time Olympic gold medal winner Phillip Dutton in West Grove.
"I now realize that I truly was an awful rider when I first rode with Phillip," Sylvester said. "I think he got tired of teaching me and that's when he handed me over to Boyd [Martin]," she added with a grin.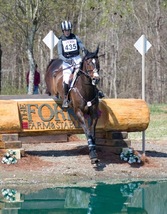 She credits Boyd Martin and his wife Silva for dramatically improving her riding. "Although I rode from the time I was very little, I did a lot of self-teaching, which is not a good idea," she said.
Boyd taught her how to ride stadium and cross-country courses with more finesse while Silva helped with her dressage. "Dressage is definitely the weakest part of my riding and because Silva works with Boyd and other event riders, she knows how to tailor her instruction to eventing," Sylvester said.
Sylvester is thrilled with how her business, Lilybridge Eventing, has grown in a few years. "I didn't think I would experience as much success as I have, and I attribute it to being in this area, with so many top riders," she said. "I've been all over the East Coast and no one has countryside like this. It's ideal for training. That's why event riders congregate here."
Also important to her success are her clients, who have supported her financially. Most of her top competition horses, and even some working their way up the ranks, are co-owned. The co-owner contributes to expenses, making it feasible for Sylvester to regularly compete, and gives the co-owner the thrill of watching their horse under the guidance of a top rider.
And certainly not to be overlooked in her rise to success is one particular equine partner, No Boundaries, nicknamed Bucky. Sylvester bought the Thoroughbred-Trekhaner gelding in 2007 and carefully brought him up through each level of his eventing training. While the horse, which is co-owned with Jill and Henry Tallman, can be a difficult ride, his athleticism and performance at some of the toughest competitions worldwide has turned heads. In 2012, Sylvester and Bucky finished 13th at Rolex (Kentucky) - the only four-star event in the United States. Following that success, Sylvester and fellow young event rider Kate Hicks of Cochranville launched a plan that culminated in both of them taking horses to England to contest another of the most commanding cross-country courses, Burghley.
While their performance at Burghley was not so stellar, Sylvester believes it was a great experience -- not only competing there, but the planning and fundraising she and Hicks did to get there. "We raised about $45,000," she said. "The community support was absolutely amazing. And no one large check was written. This was all money from two jumper shows, a silent auction, and a cross-country schooling day.
"It was very humbling going to Europe," Sylvester said. "If you are one of the top 20 riders here, you would be lucky to be in the top 200 over there."
At Plantation Field, Sylvester and Bucky will compete in the CIC 3 Star, the highest level of competition offered. The pair has had some issues this year, but Sylvester believes they have recently made big strides in resolving an ongoing problem - Bucky's fear of large grandstands.
"We've had problems in dressage if it is a really big arena," Sylvester said. "But we have come up with a warm-up plan that really seems to settle him."
In addition, at Plantation Field, Sylvester looks forward to riding Peace Proposal, or "Paris" for short.
"Paris is an off-the-track-Thoroughbred, as are the majority of our horses," she said. "Plantation Field will be Peace Proposal's first time competing in a CIC 2 Star or intermediate level competition."
The attractive bay mare is one of several up-and-coming horses that Sylvester owns in partnership with a client. "Laurie Daneker and I each own 50 percent of the horse. Her daughter, Hannah, rides with me and ultimately Paris will be for her," Sylvester said.
Another of Sylvester's promising young horses, Paddy the Caddy, will be competing in the CIC. A fancy Irish Thoroughbred, Paddy was imported by his co-owner Frank McEntee to be a race horse, but a career change to eventing seems to suit him much better. In 2012, he began in novice, quickly moved into training level, and now is not only competing in intermediate, but winning. He most recently finished second at the CCI at Bromont in June.
"It can be tough when they experience so much success early on," Sylvester said. "Paddy is like a star high-school football player who is starting at varsity as a freshman. We have to be very careful not to burn him out."
Participants can cheer on Sylvester, as well as a number of other top local riders, at their hometown event. Plantation Field is located two miles north of Unionville on Route 82. Admission is $20 per car on Saturday and Sunday, and free on Friday. Competition begins at 8 a.m. on Friday, 8:30 a.m. on Saturday, and 9:30 a.m. on Sunday.
Visitors can join in the tailgate competition with the theme "Downton Abbey," or enjoy the foods sold by various vendors. There's an array of shops and activities for kids.
Visit www.plantationfieldhorsetrials.com for more information.