A concern for the past unites Winterthur artists
09/11/2013 03:20PM ● By Acl
Wooden wall pieces by Lindsay Grigsby.
By John Chambless
Staff Writer
Who knew there was so much creativity shared by people who work at Winterthur?
"The Artists of Winterthur: A Collective Exhibition," which opened on Sept. 6 at the Oxford Arts Alliance, puts a spotlight on artists who have an admirable artistic range, and a common commitment to celebrating - and preserving - the past.
Leslie Grigsby shows supreme skill with meticulous beadwork. At the gallery entrance are four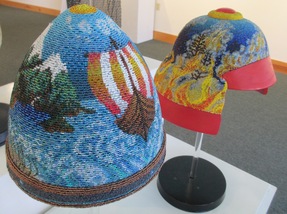 beaded helmets copied from headgear of ancient civilizations, each one embellished with elaborate scenes inspired by their respective cultures. Each one is a little masterpiece. Grigsby's smaller beadwork pieces are equally impressive. "Water Ways: Rocks and Falls" spills off the edge of a table, and "Koi and Water Plants" manages to recall the colorful swirl of an underwater scene.
Elsewhere, Lindsay Grigsby shows three interesting wooden wall pieces - two resemble planets in orbit, and a "wall table" is embellished with knobby little somethings that give it an offbeat charm.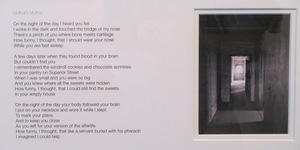 Natalie Caccamo's "Project (W): The Creamery Series" features black-and-white photos of an abandoned creamery building on the Winterthur grounds. The images have great atmosphere, particularly "Fresh Cuts," in which posters detailing various cuts of meat hang on a wall over an ominous-looking floor drain. A stack of small, matted photos by Caccamo are very affordable, and each one is a jewel.
Caccamo is also the photographer for "Ghost Stories," a very fine series that unites her photos with supremely skilled poems by Amy Marks Delaney. The mother's lament about a child becoming independent ("Love Song"), and a memory poem about a grandmother's death ("Mother's Mother") are guaranteed to rivet you to your spot in the gallery as you read.
For extended browsing, there's a colorful rack of homemade scarves by Joy Gardiner, and a large selection of very creative jewelry by Lynn Hoyt.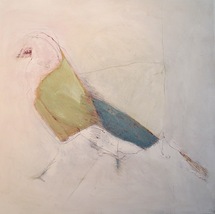 Mimi Peterson, of Kennett Square, has three sketchy oil-and-wax paintings of birds that are splendidly subtle, and they function well as a trio. Harold Kalmus shows two plaster panels that look like ancient artifacts, and his two-piece bronze, "Julia Meets the Crocodile," has drama, mystery and sinuous appeal.
Raun Townsley's concern with how time alters objects and places is shown in four well-composed photos of crumbling buildings, and by a monumental coat rack made from salvaged wooden planks and huge iron hooks.
Lauren Fair shows a rooster painting with newspaper collage background, a painted stoneware bowl, and a drawing series in which a standing flat iron morphs into a standing mouse, without losing its basic shape.
"The Artists of Winterthur" continues through Sept. 28 at the Oxford Arts Alliance (38 S. Third St., Oxford). Gallery hours are Tuesday, Thursday and Friday from 9 a.m. to 2 p.m., and Saturday from 11 a.m. to 4 p.m. Call 610-467-0301 or visit www.oxfordart.org.