Trash becomes treasure at Bookplace exhibit
09/11/2013 03:11PM ● By Acl
A portrait made of a tabletop and other bits by Maggie Creshkoff.
By John Chambless
Staff Writer
You've never seen cast-off items used quite as ingeniously as you'll see at Bookplace in Oxford this month.
The vision shown by the artists in the "Trashy Women 2013" show is consistently inspiring. After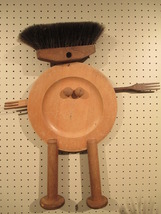 you see what they come up with, you'll be tempted to recycle some art of your own. Of course, few of us could look at a tabletop, two chunks of an old chair and some metal discs and come up with the very expressive portrait put together by Maggie Creshkoff. Actually, the whole wall full of her found-object faces is delightful.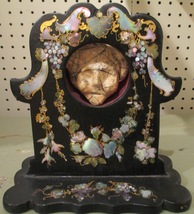 Artist Jo Pinder makes sentimental assemblages out of antique photos, buttons, lace and old labels, and they resonate with personality and echo bittersweet back stories. Pinder clearly thinks a lot about how these bits of the past fit together, and you'll need a few moments to piece together each work. Pinder's "Mother of Pearl" is an antique clock case, perhaps, into which she has placed small, wizened face made of old newspapers.
There's a very inventive – and labor-intensive – dress by Donna Steck McMahon made out of sewn-together clothing labels. It's titled "Label Me," which is entirely appropriate.
"The Lonely Garden," the confessional pedestal gazing ball sculpture by Trebs Thompson, is a tour de force. It's poignant, sad and hopeful, studded with trinkets, beads, jewelry and little hand-painted messages ("Your forever was meaningless," "I grow stronger each day"). There's hope, hurt and anger expressed here, and the brass bullet casings arranged at the base – each one embellished with a bit of mother of pearl and a fake gem – hint at the complex life story behind the work.
Then there's "Father Guevara" by Caryn Hetherston, an assemblage of fencing, a flattened can, an old rusted gear halo, and a face made of a collander, bottle cap and two beads for eyes. The piece pays tribute to a priest who works with the poorest of the poor who scavenge trash at landfills, and the materials say it all.
Whether or not you fall into the camp of folk art admirers, you can't help being impressed at this level of creativity. Could you look at an old oil can and a faucet handle and come up with a flower in a vase, like Mindy Jarusek does here? Well, come and admire works by people who can turn trash into treasure. The exhibit continues through Sept. 29.
Bookplace (2373 Baltimore Pike, Oxford) is open Fridays from 1 to 4 p.m., Saturdays from 10 a.m. to 5 p.m., and Sundays from noon to 5 p.m. Call 717-951-6418 for more information.