The debut of bride by J highlights Oxford's First Friday activities
09/11/2013 02:41PM ● By Acl
Oxford officials at the ribbon-cutting ceremony marking the progress on the North Third Street streetscape project.
By Steven Hoffman
Staff Writer
One of Oxford's busiest First Friday events of the year took place last Friday night, Sept. 6, highlighted by the opening of a new store, bride by J.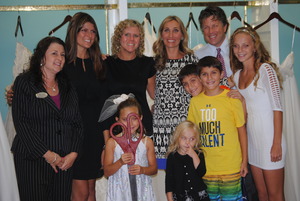 Jennifer Kienzle, the owner of bride by J, lives in Oxford. She said that she was familiar with the building at One North Third Street, and always liked its large windows and the prime location at the main intersection in town.
"I always admired the building," she said.
Kienzle has 20 years of experience in the fashion industry, and she owns Jennifer's Bridal Boutique in Hockessin, Del. That store attracts customers from far and wide, she said.
"There has been a change in the industry with women now wanting to sell their dresses," she explained.
Kienzle said that the change can be attributed to the popularity of two TLC reality shows, "Say Yes to the Dress" and "I Found the Gown," as well as the number of wedding dresses that are now being sold on the Internet.
At bride by J, women will be able to try on the dresses.
"We're very selective about the style and the condition of the dress," Kienzle said. "And the women will still get wonderful service."
Kienzle said that her career in fashion began in high school when she was placed in a work-study position at a bridal salon. After graduation, she started working at the bridal salon and then purchased it. She has owned the Hockessin shop for the last 18 years. Bride by J will be a good complement to Jennifer's Bridal Boutique because one sells new dresses while the other offers upscale used dresses.
The bride by J grand-opening may be the most elegant in Oxford's history, with the music and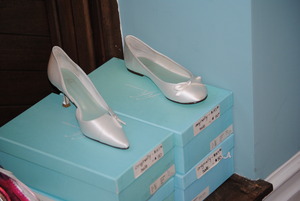 champagne. It also may have been the cutest grand-opening ever thanks to a performance by the young performers in the KMC Illuminations Dance Troupe.
Oxford Mainstreet, Inc. executive director Sue Cole said that she's very excited to add bride by J to the roster of businesses in town.
"She's an established business owner and we're glad that she chose Oxford for a new location," said Cole.
When Kienzle, surrounded by her family, officially cut the ribbon on the new store, Cole commented that, "We are so thrilled to have you in Oxford. We love the elegance that you bring. We love the energy that you bring."
Cari Phillips is one of the many customers who have purchased a wedding dress from Kienzle. Ten years later, Phillips still maintains a relationship because of the bond that was formed.
"It was a fabulous experience," Phillips said. "She really understood what I was looking for. She became a part of the day. She helped all my bridesmaids get ready. She's just very passionate about what she does. She's fabulous."
Phillips said that she can understand why more women are selling their wedding dresses and others are buying used dresses.
"There's a charm and style to an older dress," she said. "Vintage is definitely in. And there's a story behind these dresses."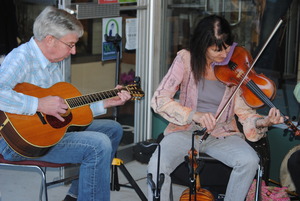 "This business has a lot of synergy with other businesses in town," said Melissa Pacella, the office manager of Oxford Mainstreet, Inc.
Kienzle is happy to have a business in Oxford, too.
"They've been working so hard to revitalize the town," she said. "It's a cute town and so charming."
The hours for the shop are Tuesday, Thursday, and Friday from 11 a.m. to 5 p.m., Wednesday from 11 a.m. to 8 p.m. and Saturday 10 a.m. to 4 p.m.
Oxford celebrated the progress being made on the streetscape project on a portion of North Third Street with a ribbon-cutting ceremony. Cole said that this was a celebration for the businesses on this part of street and a larger event will take place with the Chester County Commissioners once all the work is complete. Parking meters and streetlights will soon be installed.
Oxford Borough Council President Ron Hershey said, "It's good to see this phase completed."
He thanked the Chester County Commissioners for approving the grant that made the project possible. Oxford's appearance has been transformed as a result of the expansive streetscape project.
"I still hear all the time how nice the town looks," Hershey said.
There are several other new businesses about to open in town. The Octorara Hotel, which is under new ownership, has reopened with a limited menu as work continues toward a full-scale grand-reopening. A new Mexican grocery store, El Nayarit, is also about to open its doors.
"There are a lot of good things happening," said Cole.