Talula's Table opens sister shop in Philadelphia
09/04/2013 02:50PM ● By Acl
Inspired by Talula's Table, the Daily features a country centerpiece table.
By Richard L. Gaw
Staff Writer
In 2007, when Aimee Olexy opened Talula's Table in Kennett Square, it was the answer to a prayer for many in Chester County who saw the need for an eclectic change from the typical cafe, a place where the bohemian quirkiness of Northern California met the tastes and variety of Southern France. They got it, they get it still, and they're getting it again.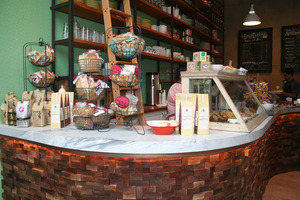 Inspired by the success of Talula's Table, as well as other hip epicurean market-like shops now popular in other large American cities, Olexy and restaurateur Stephen Starr have opened Talula's Daily adjacent to Talula's Garden on Washington Square in Philadelphia. The market builds upon the Talula's dining experience as an easier-going alternative -- a chance for customers to bring the Talula's way of eating and cooking into their own homes.
Opened at the end of July, Talula's Daily features many of the signature morning food items found at Talula's Table: crusty bread, freshly roasted coffee; local farmstead cheeses; organic, fresh-squeezed juices; creative sandwiches; heirloom recipes such as kasha and bowties, stuffed pork chops, monkey bread, spinach pie, stuffed shells; as well as takeaway meals like chicken croquettes, vegetable lasagna, and grilled fish. In addition, The Daily offers catering and a picnic program of baskets filled with goodies to carry into the park and enjoy in the sun.
"I've always liked the idea of having a restaurant with plated food and the energy of nighttime, but at the same time, I'm committed to my love of morning food, like cheeses, sandwiches and coffee," Olexy said. "The overall mission of The Daily is the same as Talula's Table, which is to promote small batch, handmade food, morning, noon and night."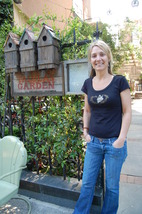 Also reminiscent of Talula's Table is, of course, the centerpiece table itself, which is now being used for family-style suppers for groups up to 12. The seasonal five-course meal, begun by chef de cuisine Scott Megill two weeks ago, is a constantly evolving menu starting with hors d'oeuvres, Talula's signature bread baked in flowerpots, and farm-fresh soups and salads. Entrees inspired by the whimsy of New American cuisine may include Wyebrook Farm-aged angus steak with heirloom tomato casserole, jalapeno butter, and vinegar syrup; or lamb shanks with couscous. Each entrée course is accompanied by a variety of cheeses from Chester and Lancaster counties, and finished with homemade desserts.
"The spirit of that table (at Talula's Table) could actually stand as one of the centerpieces of what Chester County is all about, as well as a reflection of our entire mission," Olexy said. "It's the appellation of a farm table and the community, where the valuable things we have in the area come together. Talula's Daily resonates in an equally powerful way. If Talula's Garden is an oasis off of the park, then the Daily, to me, reflects the intimate nature of the small-batch cookery idea. It's a place where there's no menu, where there's food everywhere, and where customers meet customers."
Talula's Daily is at 208 W. Washington Square in Philadelphia, and the market is open from 7 a.m. to 7 p.m. daily. Supper is served Tuesday through Sunday from 7 p.m. until closing. For more information, call 215-592-6555, or visit www.talulasdaily.com.