In the tangle of vines and steel
09/04/2013 02:26PM ● By Acl
A bed frame made of vines and forged steel.
By Richard L. Gaw
Staff Writer
The sculptures that Rob Sigafoos creates now -- which accent the Kennett Square home he shares with his wife -- come from a solitary pursuit, one man bending wood and steel, and for the moment, it is still a private enterprise. It probably won't be that way for long.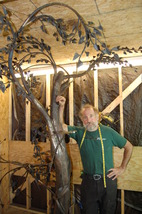 Stories and meaning are all over Sigafoos' sculptures, from the seasonal inspiration seen in tables, to the forged copper and vine in candle holders, and to the towel rack made of bittersweet vines and steel. Door hinges are forged from copper. A wood and steel bed frame is made of two vines removed from an oak tree, and they begin their journey on one side to represent the wrap-around tightness of a relationship. As the vines move upward, they unhinge, representing separation, and at their end, they become entwined again.
"I have a love for the shape, form and texture of wood, as well as the color of the pieces I create, and all of them dramatically influence me," Sigafoos said. 
If the evasive vines Sigafoos pulls from nature form one half of his sculpture, then the other half - the metal and steel part - comes in part from his long career as a farrier. A native of northern Virginia, he shod horses there for ten years. From 1983 to 2008, he ran the Farrier Services Department at the New Bolton Center. At New Bolton, he created the Sigafoos shoe, a unique adhesive-bonded horseshoe that serves as an alternative to traditional nailed-down horseshoes.
The necessary evil of the farrier profession is working with often uncooperative large animals,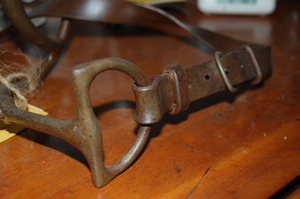 however, and over time, Sigafoos had been kicked and jerked by horses he was trying to work with. Medical professionals told him that he was one strike away from spending the remainder of his life in a wheelchair, so after helping to treat Barbaro, the winner of the 2006 Kentucky Derby who suffered a catastrophic leg injury at the Preakness, Sigafoos retired.
Since then, he has used his love of nature and his experience as a farrier to create a second career as a sculptor. His Vinewoods Forge is an eclectic blend of sculptures for the home and garden. Every piece of wood he uses for his sculptures comes into his studio from a ten-mile radius of his home. The cherry wood he uses comes right from his property. He finds old wood once used on nearby barns. An avid hiker and climber, he often has received permission to comb the 325 acres of a neighbor's property to look for invasive vines that compete for space with trees.  
"If I have an idea for something, like say I need to make a handle, I'll find it in nature," Sigafoos said. "I'm interested in these trees overgrown by invasive species. They are the nemesis of the gardeners, but to me it's fascinating to witness this slow-motion combat between the trees and the vines. Sometimes the tree wins, and sometimes the vine wins."
Perhaps the largest showcase of Sigafoos' many projects is the 163-inch spiral staircase he is working on adjacent to his studio. Six feet in diameter, it is a circular tail of forged steel melded with curving vines that are currently drying beneath a tent nearby. Eventually, the staircase will be retrofitted in his home, and connect the kitchen with the basement. He began the project a few years ago, and it reflects his artistic vision, which is to combine form with function.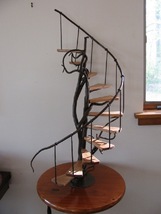 "In reality, we interact with our art more if it's a functional piece," he said. " It's great to see a painting on a wall, but the reality is that if people interact with something that's both functional and creative, they appreciate it more." 
Jill Beech, former Head of Medicine at the New Bolton Center, occasionally uses Sigafoos' studio to create her own sculptures.
"One of the things so present in his work is that Rob thinks things out, and is clever enough that if he doesn't like the results, he'll cut it off and begin somewhere else," Beech said. "He always thinks in terms of how it will work. He works with such meticulous detail, and how he uses vines as well as steel gives his work an organic form."
There's a sycamore stump on the edge of Sigafoos' property - about five feet in length - that's in the beginning stages of being carved out and eventually turned into a formal writing desk.
In recent years, he has sold several pieces to friends and appeared at local art shows, and can eventually see himself expanding his passion into a full business, creating work based on clients' needs. He wants to fully enter the marketplace on his own watch, and not at the risk of losing hold of the thing that attracts him to sculpture.
"If I sell some things, that would be great, but that's not my ultimate goal," he said. "I never want to lose sight of the fact that I'm interested in transitions, going from point A to point B, and taking the roughness of nature and seeing it transformed into something else."
To see more of Sigafoos' work, visit www.vinewoodsforge.com