Celebrate the return of the Mushroom Festival
09/04/2013 01:36PM ● By Acl
By Carla Lucas
Correspondent
When the Mushroom Festival bursts onto the scene on Sept. 7 and 8, all of its popular events return for the 28th annual extravaganza.
Kennett Square opens its doors to welcome guests from near and far to the largest celebration of the mushroom anywhere. Details, schedules and links to all events are on the Mushroom Festival's website: www.mushroomfestival.org.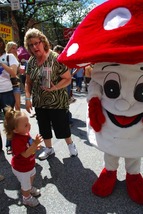 The National Fried Mushroom Eating Championship returns on Saturday, Sept. 7 at 3 p.m. in the Special Events Tent. Last year, Jamie "The Bear" McDonald set the bar high as he devoured 5.5 pounds of fried mushrooms in just eight minutes. Come and cheer for the competitors, both amateur and professional, as they compete for this year's title and attempt to set a new world record.
When Carla Hall first stepped into the Mushroom Festival's Culinary Tent in 2009, her fans from the TV show "Top Chef" enthusiastically greeted her, excited to hear her take on cooking with mushrooms. Five years later, Carla Hall, now co-host of ABC's "The Chew," returns to the Mushroom Festival's Demonstration Kitchen as its Celebrity Chef for two demonstrations on Sunday, Sept. 8. Tickets for these events are available online through a link on the Mushroom Festival's website. Check out the Culinary Tent's web page for a schedule of the other regional chefs who will be sharing their love of cooking with mushrooms.
New to the festival is "Dining and Dancing in the Streets," centered around the Community Parade on Friday evening, Sept. 6. Kennett Square's restaurants are planning to have dining outside along the parade route. Before and after the parade, local dance band, Good Foot, will be in the center of town to perform. This evening is also Kennett Square's First Friday Art Stroll, and the local merchants have special events planned.
Only once a year does the public have the opportunity to step inside a mushroom farm to see how mushrooms are commercially grown. The Farm Tours, as well as the Growers' Exhibit, where guests learn about the entire mushroom growing process, return for another great run.
The ever-popular Antique and Classic Car Show, located on Broad and West Cypress streets, returns on Saturday, Sept. 7 with many fan favorite cars, plus many first-time entries. This year, the show is dedicated to the memory of Ed Twohig. His 1957 Chevy Nomad, Ed's pride and joy, returns as this year's featured car.
The Mushroom Festival Run/Walk returns one more time to the starting line in front of Kennett High School on Sunday morning, Sept. 8 at 8:30 a.m. This event grows in popularity every year as the runners and walkers work their way along a course that follows the Red Clay Creek. Next year a new route is planned, so if you want to experience this course, come this year and then return next year for a new experience.
There are many Street Fair vendors returning, as well a quite a few new vendors. This year's Street Fair promises to be filled with great mushroom delicacies, as well as unique, creative, and fun mushroom products.
Whether you're a returning guest or a first-time visitor, come celebrate the mushroom at the 28th Mushroom Festival, in Kennett Square, the Mushroom Capital of the World.