West Grove Dollar Deals for The Garage
08/28/2013 07:22PM ● By Acl
A local business owner is helping the fundraising efforts of The Garage in West Grove.
By Kita Williams
Special to the Chester County Press 
More than school supplies or household items exchange hands between customers and Karen Donnelly, the owner of Donnelly's Dollar & Deals. 

Donnelly's is helping fundraising efforts for The Garage, a community and youth center in West Grove.  Executive director Kristin Proto and administrator Nora Ganow were at the store on Thursday, Aug. 15.  
"Donations from private individuals, companies, and partnerships with businesses like Donnelly's are what fund most of our programs," Proto explained.
Donnelly's is donating proceeds to The Garage from $1 entries to win a huge gift basket loaded with school supplies, home, health and beauty items, plus a Little Kitty case which fits an iPhone 5. This time of year, back-to-school supplies are at the top of The Garage's wish list. 
Donnelly, a West Grove Borough resident and parent of two school-age children, said, "I love giving back to the community…it's just something that I love to do and it feels good."
The donations help The Garage offer programs for youngsters. 
Ganow said, "Our after-school and summer programs are offered at no cost whatsoever."  
"Also, unlike many programs, The Garage does not impose income restrictions on parents … just because a family may have a higher income does not mean that their kids can't enjoy our services," Proto explained.
While there are grant programs which The Garage participates in, by not imposing income caps, one can see how the program may not qualify for more stringent grant funds. Therefore, private fundraising is essential to The Garage.
A stop by The Garage is impressive. From the mosaic-tiled exterior and murals inside, the youth center is welcoming. The fully equipped computer lab rivals any private school's. Then there is the indoor activity area, complete with pool tables, air hockey, and ping-pong tables, just to name a few of the amenities.  These visuals added a perfect touch to the wide smiles on the kids' faces.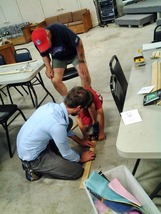 In another area, Tony Derrico, an accomplished guitarist with the Oxford Arts Alliance, and his musical inspiration (and father) Ed Derrico, were helping children create guitars from recycled items. A special treat followed with a cultural lesson and performance by Tony himself on the "Bo-Dillo," an innovation that developed into the well-known name "Bo Didley." 
Derrico explained that the African instrument was introduced to America by slaves beginning in the 17th century.  Because of the one-chord assembly, special vibrations had to be manipulated on the Bo-Dillo to create its magical sounds, which later was termed "the Blues."
To learn more about The Garage and to register for their upcoming 5K race on Sept. 21, visit www.GarageYouthCenter.org or call 610-869-4400. Donnelly's Dollar & Deals is open Tuesday through Sunday at 50 Railroad Avenue in West Grove.  Call 610-869-4780 for hours.