KAU team advances in the Senior League World Series
08/15/2013 11:20AM ● By Acl
The KAU Kings have already earned two victories in their quest to win the Little League World Series.
By Mary Walter
KAU Communications Coordinator
The KAU Kings continued a history-making season with an 11-1 win over Italy on Monday, moving to within four victories of winning the Senior Little League World Series. As the deadline for this issue of the Chester County Press approached, the Eastern champs had the luxury of more than a full day off before their game against the U.S. Central champion from Clear Ridge Little League in Chicago. The two teams were set to play on Tuesday, Aug. 13 at 5 p.m. in Bangor, Maine.
The KAU Kings 16U baseball team can already claim to be one of the ten best 16-year-old teams from around the world. There are more than 72,000 senior division teams worldwide.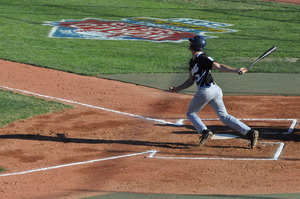 When the KAU Kings captured the Eastern Regional crown in West Deptford, New Jersey last week to earn a trip to the World Series, they also earned a new name—the Senior Division Eastern Regional Champion—complete with new uniforms and hats.
Although the KAU squad survived numerous close games along the way, the team has lost only one playoff game as they captured the District 28 championship, the Section 28 title, the Pennsylvania State Championship, and the Eastern Regional crown. The squad was down to its final out against New York in the opening game of the regional tournament before scoring five runs to win the game. The team from Kennett also staged three other comebacks during the regionals.
"We've rallied this whole way, all the way from sectionals," said manager Todd Duerr, who has led the all-star team for nearly seven years. "I thought these boys—many of whom have played together since they were seven or eight years old--might be a special group, but never in my wildest dreams did I believe we'd be going to the World Series. What coach would?"
The 17 players and coaches left for the World Series tournament in Maine last Friday at 7 a.m. Driving through what Duerr called an "epic rain," the Eastern champs arrived in Bangor 12 hours later. After being fitted head to toe for their new black, gray and white uniforms with a cursive "East" on the chest and a corresponding "E" on the caps, Coach Mike Pechin compared the boys to "wide-eyed kids in a candy store. If they were peacocks, they'd be strutting with their tail feathers wide open. There is just so much emotion. We couldn't play a game today. The team wouldn't be able to concentrate."
Or, in the words of KAU President John Tucker, whose son Chris is a member of the team, " No one knows who KAU is anymore. When you say you're from Kennett, you have to change that to East, he said. "Changing colors from light and dark blue to black, white and gray and our name from Kings to East takes some getting used to."
The opening ceremonies at Bangor's Mansfield Stadium—which has a large hill in center field just like Lamade Field in Williamsport, Pa.—mirrored a "mini-Olympics," complete with a parade of teams and the playing of national anthems. But the ceremony began what has become a true cultural experience for Kennett's 16-year-olds.
Because all the teams are staying in the same hotel together, Pechin said, "Players are asking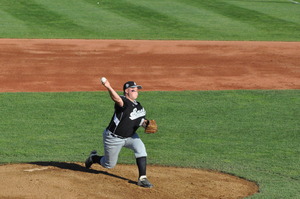 one another basic questions about weather in countries they represent, what the school year is, about where they play baseball. Most of the teams speak English--some of them broken English but well enough to understand. Philippines and Panama teams have translators.  Our boys are learning about the beliefs, cultures and ways of life of the other teams. I think they are getting a good dose of reality about how good they have it where they live. I definitely see that this is a humbling and gratifying experience for them to understand just how lucky they are."
While the players have been cultivating friendships, the Eastern champions' first priority is their games. In the first World Series game against the Southwest Champion from Laredo, Texas, on Sunday, the boys from Kennett Square stopped a Texas rally to record a 4-2 win. Andrew Jones pitched a complete game, crediting his defense for its work behind him.
Against the Africa and Europe Region representative from Italy on Monday, the Eastern squad had no need for a rally, scoring nine runs and batting around three times in the first three innings during a game that lasted only one hour and 45 minutes. Starting pitcher Alex Pechin and reliever Ryan Barrett combined on a two-hitter, facing only two batters over the minimum for a five-inning game. Barrett gave up Italy's lone run in the top of the fifth inning.
"We want to make sure we get an out on every play and cut down on a big inning for any team," Pechin said. "There's always someone different who makes a play that reinvigorates the team. In our game against Texas, the middle and the bottom of our batting order came through. Against Italy, it was the top of the lineup.  We are just hitting the seams off the ball."
Leadoff hitter Drew Jarmuz continues to drive the East's lineup from the top. Over two World Series games, he's batted 5-for-9 (including a perfect 4-for-4 against Italy) and scored four runs. Jones picked up four hits in seven at-bats and drove in four runs over two games. Eric Duerr leads the team with five RBIs.
The Eastern Regional champions have dedicated their post-season to the memory of Cathy Reese, whose son, Tucker, plays on the team. Cathy Reese lost her battle with cancer as the state tournament began. Parents on the team had shuttled Tucker to see his mother almost daily until the day that she wrote her son a note that said simply, "Play Ball."
When a light rain began to fall in West Deptford immediately after the Kennett 16-year-olds had defeated Quincy, Mass., for the Regional Championship, the coaches and players made sure to let those around them know that they believed that the short shower was Cathy Reese's tears of joy.
"Tucker has become an inspiration to me as a parent with how he has handled this adversity on and off the field," said Coach Pechin. "I use him as an example for my own sons that this is the type of young man you want to be like. For a group of 16-year-olds, rallying around him has become a great maturation process. We've fought back many times in these games, but it's nothing compared to what he fought through to make a difference late in this season."
Tucker Reese's family—his father, Rob, and his brothers Beau and Tyler—is one of several families that were able to make the trip to Bangor to watch the World Series.
"The players do have a curfew, and Todd and I do the bed check. We know they're in their rooms, but who knows what time they really fall asleep? Now that we've been here a few days, the excitement has worn down and that quiet confidence continues to come through."