The beauty of animals at Oxford Arts Alliance
08/07/2013 12:06PM ● By Randy
"Caught in the Gaze" by Steve Oliver
By John Chambless
Staff Writer
You can't miss the Wildlife Art Exhibit at the Oxford Arts Alliance this month. It starts in the front window, where reeds, trees and taxidermied foxes, ducks and a goose have been arranged to herald the show inside.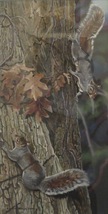 Capturing the grace and motion of animals is a tricky thing, and the show does have its share of graceless ducks portrayed stiffly against a variety of backgrounds. But there are plenty of standout works as well.
One of them is the large metal sculpture of a goose in flight by Steve Hastings, displayed on a pedestal in a corner of the gallery. Steve Oliver does an amazing job of depicting the texture and subtle coloration of wolf fur in "Caught in the Gaze," an acrylic and colored pencil work that packs as much detail into the forest undergrowth as it does the four alert wolves. Oliver goes for dazzling detail again in "Quiet Place to Rest," in which the three ducks in the lower left are secondary to the gorgeously rendered tangle of tree roots on a stream bank.
Susan Bankey Yoder works similar magic with the texture of squirrel fur in her watercolor/gouache "Tag You're It," and she captures the alert posture of the animals very nicely. Yoder's depiction of ancient stonework in the watercolor/gouache "Resting Place" is another of the show's strongest points.
There's an expressive light touch to the brightly colored "Chickens on the Loose," a small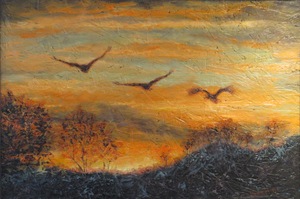 watercolor by Patricia Reese; and "Trio in Flight," an oil by Reenie Chase, benefits from the rough texture of the board itself. The sunset view of birds in flight looks like an antique painting.
David Nibouar's photo, "The Great Migration," captures the tumult of animals following each other into a river, and his "Thirsty Kids" shows a placid trio of young lions at a water hole.
Adding a macabre touch is "Via Occiditis," two color photos by John Parsons that show animals after they've been run over by cars and are in the process of wearing away altogether. They're like fossils in the making, and interesting to look at, in an odd sort of way.
"Young Elephant, S. Africa," a black-and-white photo by Anne Marie Palita, benefits from its sharp contrast, tight cropping and immaculate printing.
And don't miss the case of jewelry, where Courtney and Lee Peterson show off beautifully made pendants that make even a cockroach and a bat into appealing artistic statements.
The Oxford Arts Alliance is at 38 S. Third St., Oxford. Gallery hours are Tuesday, Thursday and Friday from 9 a.m. to 2 p.m., and Saturdays by appointment in August. Visit www.oxfordart.org or call 610-467-0301.
Wildlife Art Exhibit [4 Images]
Click Any Image To Expand