CKC Landscaping: The family company who puts your family first
07/02/2013 12:45PM ● By Brian O
Bring the Beauty of the Outdoors to Your Home
If you're a family in southern Chester County, there's a good chance that your home offers at least a little of the stunning views that you can find among the rolling hills and scenic vistas of our area. While you've admired the great outdoors from your yard or patio, have you ever thought of inviting that beauty to be a part of your home?

For the past several years, CKC Landscaping Inc. of West Chester, PA has achieved an outstanding reputation for the high quality outdoor living spaces they have created for homes throughout Chester County. A glance through the work they've done, in communities just like yours, tells the tale: paver patios, retaining walls, outdoor kitchens, fireplaces and fire pits and natural stone walkways -- enhancements that can not only extend your home to the outdoors, but increase your home's value.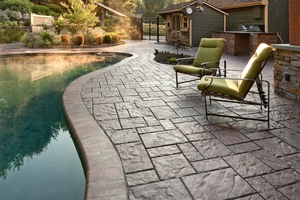 "An outdoor living space is consistent with remodeling a master bedroom or kitchen," said David Connors, who co-owns CKC Landscaping with his brother-in-law Steve Compton. "Creating an outdoor living space is not just a matter of curb appeal, and your family's enjoyment, it's increasing the value of your home."

Connors and Compton began CKC Landscaping in 1994, accompanied by a lawn mower and a truck, and what began as a lawn maintenance company has become, 18 years later, one of the premiere landscaping firms in Chester County. The mark of quality is seen not only in the materials they work with, but in the quality of the work itself. The three-crew team arrives on work sites with well over 100 years of combined experience. Fully certified and dedicated to the highest standards of quality and cleanliness, CKC Landscaping has earned an A+ rating from the Better Business Bureau, and in nearly two decades of working with families just like yours, the company has not received one customer complaint to the BBB. In addition, all hardscaping workmanship comes with an industry-leading five-year guarantee, as well as a pledge that your outdoor living space will be completed on time and at estimated cost.

There's another reason why CKC Landscaping is the choice for you and your family. CKC Landscaping is truly a family business; in 2010, Compton's son Steve, Jr., joined the company as a general manager. It's also close to home; Connors lives in southern Chester County with his wife and three children, and as a family man, he understands that when it comes to outdoor living spaces, the need to combine beauty with function is crucial.

"One of the first questions we ask is, 'Where do you and your kids hang out?'" Connors said.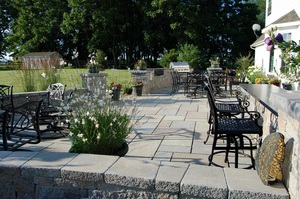 "'Do you barbecue outside? Where do you entertain? What is the general traffic pattern? Are you formal or informal?' The options are endless, but everything we create is based on that family's daily living. It's all about who they are, not us."
Whether you're looking for a complete outdoor living space design and installation, or if you're just looking to enhance your outdoor living space with the installation of an accent wall, lighting or landscaping, CKC Landscaping will work with your budget to help you achieve the outdoor living space of your dreams. At CKC Landscaping, your initial design ideas are free, and often, you'll receive two-dimensional computer sketches in as little as two days after your initial meeting.

"Our best client is an educated client, from the standpoint of products, standards, quality of work," Connors said. "Because we are helping to bring their dreams to life, it becomes a lifetime relationship."
CKC Landscaping, Inc.

930 S. Walnut Street, West Chester, PA 19380 * P.O. Box 0355, West Chester, PA 19381
Phone: 610-436-1810 * Web: CKC Landscaping - West Chester, PA
CKC Landscaping Portfolio - July 2013 [6 Images]
Click Any Image To Expand