Canine Partners for Life - 334 Faggs Manor Road, Cochranville, PA 19330

September 7, 2013

12:00PM - 04:00PM
Free
610-869-4902

---

Posted by: Andree Jannette Add Your Event For Free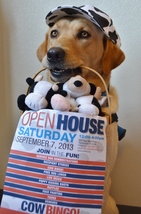 Description:
Come out and visit Canine Partners for Life and meet CPL service dog and puppies. Enjoy live music and free BBQ lunch. Take a tour of our state of the art kennel and stop by the puppy kissing booth. Cheer on Elvis the cow in our Cow Bingo event. The Open House is free, tickets for the Cow Bingo are available at www.k94life.org.
---

Avon Grove, Kennett Square, Chadds Ford, Oxford
Advertisement