Unionville errors lead to 30-12 loss
10/01/2014 04:52PM ● By Lev
Unionville's Brendan Boon sees daylight in the fourth quarter of a 3-12 loss to West Chester Henderson on Sept. 26.
By Richard L. Gaw
Staff Writer
Moments before last Friday night's Ches-Mont inter-league football game between Unionville and visiting West Chester Henderson, a group of Henderson players gathered on the sideline.
They were there to watch the practice field goal kicks of perhaps Unionville's number one offensive weapon – quarterback and kicker Alex Pechin's right foot – and Pechin did not disappoint. He booted kicks from 30 and 40 yards with relative ease, and promptly jogged off to the locker room to hear head coach Pat Clark's pre-game strategy. Apparently, word of Pechin's kicking prowess – which has included a 50-yard strike against Garnet Valley earlier in the year – had reached Henderson, but given the final score, Henderson's pre-game strategy may have been, "Give Pechin his kicks, but stop everything else."
If that indeed was the plan, then it worked to perfection.
Despite two field goals by Pechin, the Indian offense sputtered en route to an error-filled 30-12 loss to Henderson, before a large home crowd at Unionville. Meanwhile, Henderson seemed to capitalize on every Unionville turnover on their way to 243 yards of offensive effort, led by running back Tre Green's three touchdowns and 131 yards in rushing.
On their second possession of the game, a ten-yard pass from Warrior quarterback Matt Dinacci to receiver Noah Richard moved the ball to midfield, and set up a 51-yard TD run by Green with 1:26 remaining in the first quarter.
Pechin got the Indians on the scoreboard early in the second quarter with a 46-yard field goal with 10:31 remaining in the half, and followed it up with a 39-yard field goal with 5:15 left in the half. With a little more than three minutes left in the half, Dinacci, running the option, ran 63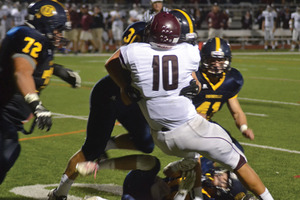 yards through the Unionville defense for a touchdown to make the score, 14-6.
Unionville's only touchdown of the game came late in the second quarter. After a Brendan Boyle carry moved the ball to the Henderson 37, Pechin hit receiver Elan Nash for a 14-yard gain. Following an incomplete pass, Pechin's dump pass to Austin Hoffmann-Reardon moved the ball to the seven yard-line, which was followed by a touchdown run by Hoffmann-Reardon on the next play. A two-point conversion try then failed.
Henderson was given one more attempt to score in the second quarter, when a sliding catch by Richard got the ball to the Unionville 18-yard line with 1.9 second remaining. The play set up a 35-yard field goal attempt by Henderson kicker Asger Hansen, which was blocked by Michael Webber as time expired.
As the second half began, the true narrative of the game, which had shown glimpses in the first half, fully revealed itself. A hounding Henderson defense, which kept Pechin from finding any consistent rhythm in the first half, effectively shut the Indians down in the second half. Pechin, scrambling in the pocket on Unionville's first possession of the third quarter, found Nash for a 25-yard gain to get the ball within the Henderson 20, but his 29-yard field goal attempt was blocked with 6:54 left in the quarter. Down 14-12, Unionville dug itself a deeper hole when, on its last possession of the quarter,  a bad snap to Pechin on the Henderson 13-yard line led to a safety with 15 second left in the third quarter.
From there, Green took over the game in the fourth quarter. His seven-yard sideline run with 7:05 left in the third quarter extended the Warriors' lead to 23-12 and, following a Henderson recovery of a Pechin fumble, Green scored his third TD of the night on a six-yard run with 4:38 left in the game.
With the win, Henderson moves to 4-1 on the season and will face Bishop Shanahan at home on Oct. 3. Unionville (3-2) will play cross-town rival Kennett in a Ches-Mont American contest on Oct. 2 in Kennett Square.
To contact Staff Writer Richard L. Gaw, e-mail rgaw@chestercounty.com.
                                    1          2          3          4          Final
Henderson                   7          7          2          14        30
Unionville                   0          12        0          0          12