Celebrating Hornet pride
10/01/2014 04:35PM ● By Lev
By Steven Hoffman
Staff Writer
When Oxford Area High School senior Corinne Blessington said that it's been getting better and better every year, she was referring to the floats that the senior class builds for the Homecoming Parade. But she could have just as easily been talking about Oxford's Homecoming celebration as a whole because that keeps getting better and better each year, too.
The evidence of Hornet pride was everywhere last Friday evening, even before the first drumbeats and cheers of the Homecoming Parade could be heard. Business owners in town 
 decorated their windows with elaborate displays and various signs—"Go Oxford!" and "Hornet Pride" and "Go Hornets."
Hundreds of spectators turned out to watch the parade as it moved down Third Street on the way to the school campus—the Oxford Area High School Marching Band leading the way, followed by the Penn's Grove Middle School band, cheerleaders from the high school and the Oxford Golden Bears, floats carrying the members of the 2014 Homecoming Court, fire trucks, and more.
Each grade in the high school decorated a float based on the theme, "The Happiest Place on Earth," featuring elements of classic Disney movies. The freshman class float, for example, paid tribute to "Finding Nemo," while the sophomores enlisted the Scream Team of Monsters, Inc. fame to scare up some delighted laughs. The junior class float invited spectators to "Fall in Love with Disney" and featured the incredible house from "Up."
The senior class's "Toy Story" float included appearances by Buzz Lightyear and Woody, of course, but also rotating blocks, Andy's toy box, and Jessie riding on a horse.
Blessington said that Jessie was her favorite aspect of the float. She added that those involved with preparing the float for the parade worked very hard on it. The senior class was rewarded for the efforts when judges gave that float the highest scores in the competition. The senior class won the spirit stick competition as well.
This year's Homecoming Court included Kristen Henry, Kasey Busko, Katie Faux, Abby Harvey, Jessica Valente, Brad Way, Jason D' Antonio, Zach Deasey, Ryan Hubley, and Eric Faux. At halftime of the football game, Hubley and Harvey were crowned this year's Homecoming King and Queen.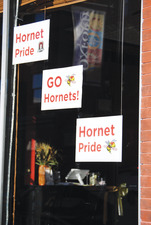 To contact Staff Writer Steven Hoffman, email editor@chestercounty.com.