Legends induction highlights Kennett Homecoming
09/24/2014 04:47PM ● By Lev
P.J. O'Sullivan and Kisten Sharp were named Homecoming King and Queen at halftime ceremonies.
By Richard L. Gaw
Staff Writer
Before an overflow Kennett High School Homecoming crowd, Kennett High School athletic coach Nathan Kindig, and Shirley Annand, a longtime member of the Kennett Consolidated School District, became the latest people to be inducted into the districts Legacy Fields during halftime ceremonies of the Oxford-Kennett football game on Sept. 19.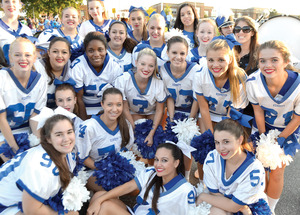 Annand, who served on the district's school board for 26 years before retiring in October 2012, was accompanied by her daughter, Patty Body, at the ceremonies.
Kendig, who passed away on June 13, 2014 at the age of 93, was represented by his sons, Kevin, Terry and David. He coached baseball at Kennett from 1953 to 1961, where his teams were Southern Chester County League (S.C.C.L.) champions in 1953, 1955 and 1957. He also coached basketball from 1953 to 1968, and his teams won six straight S.C.C.L. championships from 1960 to 1965. Several of his teams won district playoff games. After coaching, Kendig became the school's athletic director and then its vice principal, before retiring in 1983.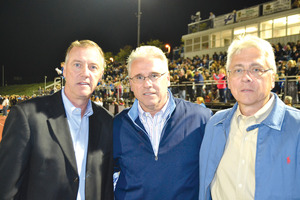 Homecoming festivities got underway in the school's parking lot, as a parade wove its way up Broad Street, onto Mulberry Street, onto Union Street and finished back at the high school. Groups and organizations represented in the parade included the Kennett Square Police Department, the Kennett band and cheerleaders, superintendent Dr. Barry Tomasetti and members of the KCSD school board, floats from all four classes at Kennett, the Homecoming Court, as well as students from the Kennett Middle School and both New Garden and Bancroft Elementary Schools.
Following a halftime performance by the Kennett Marching Band, students P.J. O'Sullivan and Kirsten Sharp were named as Homecoming King and Queen.
To contact Staff Writer Richard L. Gaw, e-mail rgaw@chestercounty.com.