The Race Through the Grapes
09/17/2014 07:10PM ● By Lev
An upcoming 5K run and walk at Paradocx Vineyard is in memory of longtime Jennersville Regional Hospital medical director Dr. Greg DeSimone.
By Steven Hoffman
Staff Writer
During his 22-year tenure as the medical director of the Emergency Department at Jennersville Regional Hospital, Greg DeSimone, M.D. saved many lives. He also made countless friends in the community with his kindness, caring, and willingness to listen to patients. His untimely death in July of 2013 saddened everyone who knew him. Dr. DeSimone was the kind of person who changes the world around him so some of his coworkers at the hospital and the staff of Southern Chester County EMS decided that they wanted to do something to honor his memory.
The group, The Friends of Greg DeSimone, is organizing The Race Through The Grapes, a combination of several of the things that DeSimone was passionate about—running, an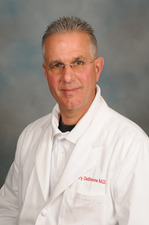 occasional glass of red wine, and training Physician Assistant students.
The Race Through the Grapes will be held on Saturday, Oct. 18 at Paradocx Vineyard in Landenberg. Proceeds from the 5K run and walk will be used to support a scholarship fund for Physician Assistant students.
"This is a community event, not just a hospital event," said Teresa Rougeaux, the Director of Marketing for Jennersville Regional Hospital. "It's the whole community pulling together, the people who were in his life."
Dianne Ryan, Emergency Department director, talked about what DeSimone meant to the Jennersville Regional Hospital's Emergency Department.
"He was our medical director for 22 years," said Ryan. "And he was a friend to many of us. We all have one or two memories, maybe more, of what he did for us on a personal level."
Kris Imburgia, a registered nurse in the emergency department, added, "We think it's important to honor him because because he meant so much to us as a teacher, a colleague, and a friend. His former patients still come in and talk about him."
Alicia Tipton, who now works in the billing office of the Tri-County Emergency Department, is one of those people who saw firsthand and still remembers the excellent care that Dr. DeSimone provided to patients.
In his position as medical director, Dr. DeSimone was also a mentor for students enrolled in Physician Assistant programs at Arcadia and Drexel University, so he was always working to train the next generation of medical professionals. It's fitting, then, that The Race Through the Grapes will help fund scholarships in Dr. DeSimone's memory. The first Dr. Greg DeSimone Scholarships are expected to be awarded to local students who are entering a Physician Assistant program in 2015.
Organizers love the fact that The Race Through the Grapes features these things that were close to Dr. DeSimone's heart. He was an avid runner and in his spare time could often be found enjoying cross-country runs on the grounds of Westtown School. Just before his death, DeSimone ran his first organized race by participating with the Jennersville Regional Hospital team in the popular Kennett Run. He placed second in his age group in that race.
Organizers agree that planning the event has helped them all deal with the loss that they feel.
"It's been a journey for us as a group," said Ryan. "This has helped us."
"We want to encourage anybody who wants to remember Dr. DeSimone to come out," said Rougeaux.
She added that the 5K is for anyone who wants to run or walk. Paradocx Vineyard will provide a nice backdrop for a community-wide, outdoor event as participants run or walk along the rolling hills, wooded areas, and dirt trails that weave through the vineyard.
"On a fall day, it's going to be beautiful," said Rougeaux.
The hope for everyone involved is that The Race Through the Grapes will become an annual event that will fund scholarships for local students year after year.
Registration begins at 10 a.m. on the day of the event. The entry fees are $35 for children and young adults and $45 for adults over the age of 21. The 5K race will start at 11 a.m. with the walk to get underway shortly thereafter. Adults can enjoy complimentary wine-tasting and there will also be live music. For more information or to register online at www.sccems/content/race.
To contact Staff Writer Steven Hoffman, email editor@chestercounty.com.