New Garden to celebrate its 300th birthday
09/17/2014 06:45PM ● By Lev
By Richard L. Gaw
Staff Writer
 The record books of New Garden Township that date back to the early 1700s may have contained the words, "New Garden Township," but the fact is, no one knows for sure, because they're missing from the Chester County Archives.
On May 25, 1714, however, a document was found that finalized the purchase of a 6,000-acre property to settlers in Penn Jr. Manor. It was signed by the Chester County Court of Quarter Sessions and lists John Rentfro as the constable for "New Garden Township." It is the earliest known deed that defines the area as a township and now, 300 years later, it has not only become the township's official starting point, it is an excuse for the township to throw itself a party.
On Saturday, Sept. 27, New Garden Township will celebrate its 300th anniversary, with an afternoon of activities designed for both families and weekend historians. From 12 noon to 4 p.m., The New Garden Township Park will be filled with live music from three bands in different locations of the park, as well as food, games, face painting, a storyteller for children, and a vintage tractor show.
The celebration will also enable visitors to take a visual walk through New Garden history. A poster museum containing several archival photographs, paintings, illustrations and maps of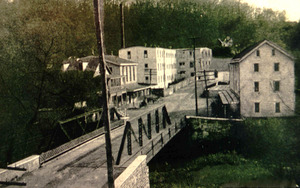 New Garden Township will be on display in the lower level of the historic Lamborn House. Facilitated by long-time area resident Pownall Jones, the presentation will give visitors a glimpse into how life was lived there a century ago.
As a part of the historical presentation, a William Penn impersonator will be walking the grounds of the park. 
A highlight of the day's events will be a historical story time with Dr. Margaret "Peg" Jones, a member of the township's historical commission, who will take visitors back to when Landenberg was a mill towns, Toughkenamon was a railroad town and Kaolin was a mining town. In addition, a ceremonial white oak tree will be planted near the historic Lamborn House to commemorate the event, and a time capsule will allow township residents to drop in mementos of New Garden today.
"None of us own this land," Jones said. "We're all stewards. We take the best care of it during the time we are here, and I'd like to think that the people who preceded us felt the same way. I would want to have those who attend this celebration have an appreciation for the fact that for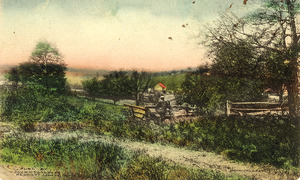 300 years, there have been people living their lives here. The times have changed, the culture has changed, but the standards have generally remained the same."
The rain date for the event will be Sept. 28, from 12 noon to 4 p.m. Admission is free to everyone. The New Garden Township Park is located on Route 41, north of Newark Road.
To contact Staff Writer Richard L. Gaw, e-mail rgaw@chestercounty.com.