Views of Italy in classical style at Bookplace show
09/17/2014 06:26PM ● By Lev
By John Chambless
Staff Writer
Hilary Mockewich is a graduate of the Pennsylvania Academy of Fine Arts, and lived and studied in Italy. You can clearly see both influences in his classical style, and in his views of the hills and ancient buildings of Italy.
The large oil "Passagio in Sesto Fiorentino" is a spectacular landscape with a terrific sense of space. The wispy clouds, hazy distant villages and cluster of red-roofed buildings are all masterfully painted.
Two charcoal and chalk drawings of marble busts have a fine sense of texture and shadow, and the two airy watercolors of Italian hillsides – "Rotunda at Sesto Fiorentino" and "Sesto Fiorentino" – are delicate, detailed renderings.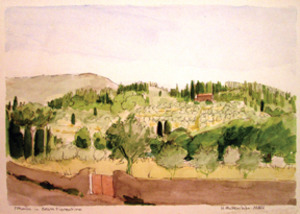 The same light watercolor technique is shown in "Meadow Lake Gazebo" and "Meadow Lake Boathouse, Philadelphia."
Mockewich's portraits show his thorough training. The oil "Pensive" is a lovely vignette that captures the mood of the sitter as well as a likeness. The tiny still life "Purloined Flower" makes wonderful use of its small scale. "Daisy Goat," with its frolicking little animal, and the playfully head-butting goats in "Locked Horns," are both charming.
There are prints available of "Daisy Goat" and two of the portraits, but the prices of Mockewich's originals are so reasonable that you'll want to take home one of these well-rendered works for your home.
"All Alive," a solo show by Hilary Mockewich, continues throug h Oct. 3 at Bookplace (2373 Baltimore Pike, Oxford). The gallery and book store is open Friday through Sunday. Visit www.bookplace.com.
To contact Staff Writer John Chambless, e-mail jchambless@chestercounty.com.