Running game powers Unionville to win
09/17/2014 06:21PM ● By Lev
By Steven Hoffman
Staff Writer
Unionville running back Brandon Boon ran for 176 yards and scored three touchdowns as the Indians defeated Avon Grove 36-0 last Saturday. Unionville's running attack, led by Boon and Austin Hofmann-Reardon, tallied nearly 300 yards despite the rain that fell throughout the game.
Boon's 34-yard carry was the big play in the Indians' first possession of the game. He capped that 70-yard drive with a 12-yard touchdown run.
On Unionville's next offensive series, with the rain falling a little harder, Boon and Hofmann-Reardon took turns running the ball, moving the Indians deep inside Avon Grove territory. On a fourth-and-one from the two-yard line, Boon got the carry but was met behind the line by safety Doug Jones and linebacker Ryan Hoffman. The defensive stop gave Avon Grove the ball on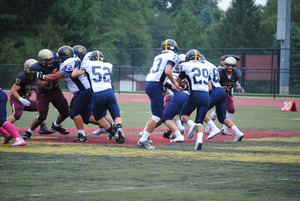 downs.
Avon Grove's offense, led by Quarterback Shane McLaughlin, was backed up against the end zone, but a nice 11-yard carry by sophomore running back Nate Jones moved the ball out to the 13. Three plays later, McLaughlin threw a pass that bounced off a receiver's hands and was intercepted by Unionville.
The turnover gave the Indians the ball at the 22 of Avon Grove. Boon picked up four yards on back-to-back carries. Than, on third down, Alex Pechin looked to pass the ball, but it was incomplete. A 35-yard field goal try, hampered by the wet conditions, was no good and the score remained 7-0.
Avon Grove's next offensive series ended with a punt. Boon took the punt for Unionville and picked up 39 yards as he returned the ball 25 of Avon Grove.
The Indians couldn't capitalize on the good field position. A bad snap on one play and a penalty for an illegal shift had Unionville going in the wrong direction. They turned the ball over on downs to Avon Grove with 29 seconds left in the first half.
Avon Grove head coach Harry O'Neill was content to have his team go into the half down just 7-0.
The second half was a much different story as Unionville's offense took control of the game. The Indians got the ball to start the third quarter and they promptly marched down the field for a 12-play, 75-yard drive. Pechin threw a screen pass to Hofmann-Reardon and the senior running back ran it in for a 15-yard touchdown, making it 14-0.
Unionville's defense, led by Andrew Jones, Mike Weber, and Trevor Gardiner, was successfully stopping Avon Grove from moving the ball and the Indians were starting to see an advantage in field position.
Unionville made it 21-0 with a 56-yard drive that was capped by a five-yard run by Boon. He had good blocking in front of him.
"We were really able to square up our shoulders and run down hill, especially in the third and fourth quarter," explained Boon.
A few minutes later, Gardiner blocked a punt and gave Unionville the ball at the 15 of Avon Grove. Unionville's drive sputtered and were soon facing a long third down. But Pechin found wide receiver Elan Nash open on the right side of the field and Nash managed to make a catch even though two defenders were close by. He ran into the end zone for a 19-yard touchdown, making it 28-0 with 7:56 left to play in the fourth.
Unionville added one more touchdown, a 41-yard carry by Boon, to conclude the 36-0 win.
Jones had three long carries in Avon Grove's final possession, but there wasn't enough time for the team to score.
The win improved Unionville's record to 2-1. After a shaky game against Exeter, Unionville's defense turned in a commanding performance.
"We just have to continue what we're doing," Boon said. "We had a great game defensively."
Avon Grove played better than the final score would indicate, especially in the first half, as the team continues to learn under first-year coach O'Neill.
"We compete," said O'Neill, who spent eight years as an assistant coach with Unionville. "My guys show up every week. We have to keep plugging away. The wins will come."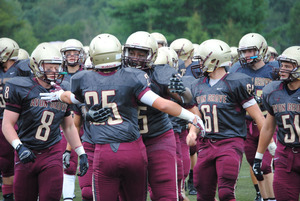 O'Neill said that he liked how the defense played in the first half, but the good results weren't matched in the second half as Avon Grove struggled with offense, defense, and special teams.
"All three phases fell apart in the second half," O'Neill said. "We gave them a short field. We had to throw the ball because we were behind."
Avon Grove will host Coatesville on Friday night. O'Neill said that he wants to get more carries for Jones, a sophomore running back.
"He's been solid all year for us," he said. "We need to get back to what we do best."
Unionville, meanwhile, will travel to Sun Valley on Friday night.
To contact Staff Writer Steven Hoffman, email editor@chestercounty.com.
Week Three results
Unionville 36 Avon Grove 0
William Tennent 31 Oxford 13
Pius X 42 Kennett 10
Week Four schedule
Coatesville at Avon Grove Sept. 19 7 p.m.
Unionville at Sun Valley Sept. 19 7 p.m.
Oxford at Kennett Sept. 19 7 p.m.