Retrospective exhibition for painter Mary Hoberg
09/10/2014 05:18PM ● By Lev
The family of the late Mary Hoberg, a longtime Concord Township resident and community activist, has arranged for a public exhibition of her paintings and drawings at Darlington Arts Center.
The exhibit opens with a reception on Sept. 12 from 6 to 8 p.m. The event is free, with wine, cheese and light refreshments.
Hoberg was a resident of Concord Township for more than 50 years. In 1954, she moved to a pre-Civil War era house on Smithbridge Road with her husband, veteran and schoolteacher Perry Hoberg, and her children.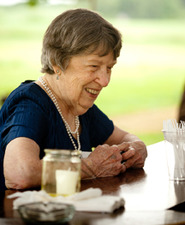 After raising her eight children, she began expanding her activities into the community in the 1970s. She served on the Concord Township Planning Commission, holding the office of vice-chairman, and was sworn in as zoning officer. For many years, she volunteered with the local Democratic Party, worked on Election Day, served a term as a Democratic committee person and ran as a Democratic candidate for township supervisor. She volunteered at the Rachel Kohl Community Library and  worked part-time at the Brandywine Battlefield Park.
She began her formal study of art during this time, studying fashion design and illustration at the University of Arts in Philadelphia. After retiring from public service in the late 1980s, Hobart studied at Darlington Arts Center with Karl Kuerner and Annette Alessi, where she continued to develop her skills in watercolor, charcoal, and pastel.
Her favorite subjects to paint included landscapes and portraiture, although she was open to painting anything
The Darlington exhibit features drawings and paintings from Hobart, along with an album put together by  Alessi highlighting Hobart's early work in fashion illustration, plus watercolors of skies, trees, water scenes, landscapes, and flowers.
"Mary was one of my very respected students, and it was a pleasure to be able to teach her," Annette said. "Sometimes I felt that she very well could have been my teacher."
The exhibit will be open through Sept. 20. Hours are Monday through Friday from 9 a.m. to 4 p.m. For more information, visit www.darlingtonarts.org or call 610-358-3632. Darlington Arts Center is at 977 Shavertown Rd., Garnet Valley.