Community attends observance for Castaneda
09/10/2014 04:53PM ● By Lev
 By Richard L. Gaw
Staff Writer
 At four o'clock on Sept. 5, the parking lot at the St. Rocco Catholic Church in Landenberg had already begun to fill, as mourners came to pay their respects to Raziel Mireles Castaneda. By a little after six p.m., the lot was nearly full, and by 7 p.m., when the Mass for Castaneda began, those who came to say "Goodbye" numbered between 800 and 1,000.
Castaneda, a 17-year-old Avon Grove High School senior, lost his life in a drowning accident on Aug. 28 that occurred at Anson B. Nixon Park in Kennett Square.
Guests included members of the Castaneda family, friends, fellow Avon Grove classmates, and several Avon Grove teachers and administrators. Those gathering for the three-hour viewing – and a 7 p.m. Mass – were introduced to a photographic retrospective of Castaneda's life in the church's lobby. Five posters were filled with snapshots of Castaneda taken with friends, family and schoolmates. On the other side of the lobby, a large display board featured handwritten notes and letters written personally to Castaneda by his Avon Grove classmates.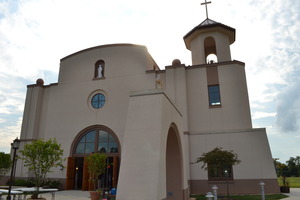 The Mass was led by Father Frank Depman, who said that Castaneda had been a member of the parish since he was a youngster, and who, after graduating from religious education classes at St. Rocco's, served as an assistant to religious education teachers at the church.
"The entire community was reaching out to Raziel's parents," Fr. Depman said. "I told the congregation that while we don't know why these things happen, if we think about what is truly important in life – family, church, community – then Raziel's passing was not for nothing."
Directly outside the church, several candles were laid out in  the church's plaza. At the end of the Mass, the casket was taken to the plaza to the accompaniment of Mexican music, performed live.
In addition to his parents, he is survived by three brothers, Israel Gonzalo Mireles Castaneda of Wilmington, DE, Juventino Aurelio Mireles Castaneda of Pittsburgh, Pa. and Nestor Mireles Castaneda of Avondale; and two sisters, Deyanira Mireles Castaneda of Kennett Square and Ana Carmen Mireles Castaneda of Avondale. He was predeceased by one brother, Uriel Mireles Castaneda. Burial will be in Mexico. Online condolences may be made by visiting www.griecocares.com

To contact Staff Writer Richard L. Gaw, e-mail rgaw@chestercounty.com