Kennett offense stymied in 35-13 loss
09/09/2014 09:09PM ● By Lev
Kennett quarterback Nick Dunlevy was under a heavy rush by defenders, in a 35-13 loss to West Chester East on Sept. 5.
By Richard L. Gaw
Staff Writer
On his first play from scrimmage one week before, Kennett quarterback Nick Dunlevy ran for a 66-yard touchdown in what would become a convincing 28-13 season-opening victory against Avon Grove. In the telltale world of premonition, what a difference a week can make.
On his first play from scrimmage at Kennett's home opener last Friday, Dunlevy's pass was picked off by West Chester East's Kevin Howard, and although the visiting Vikings did not score on their first possession, Howard's early pick was an early indication that the Kennett offense was in for a tough night.
Behind the high-flying offense led by quarterback Jon Jon Roberts, and backed up with a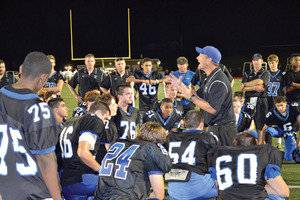 punishing defense, West Chester East advanced to 2-0 in the Ches Mont National by defeating the Blue Demons, 35-13.
Roberts, who tossed three touchdowns and threw for 226 yards in the win, engineered his team's first drive with a 57-yard drive that culminated in an 18-yard touchdown carry by running back Emmanuel Creekmur with 3:21 left in the first quarter. The PAT attempt failed, which gave WC East an early 6-0 lead.
For Roberts, a 5' 8", 160-pound senior, the drive introduced the Kennett defense to a varied offensive scheme that rotated between a ground game, screen passes, Roberts' scrambling yardage, and big plays. After a fake field goal and a touchdown pass by Roberts was called back for an offensive pass interference call early in the second quarter, he orchestrated WC East's second touchdown of the night on a five-play sequence that ended with a 34-yard strike to wide receiver Pat Downey.
With Dunlevy unable to find his receivers for any significant gain in the first quarter, he resorted to what served as the key factor in Kennett's opening night win the week before: his legs. Inheriting the ball at their own 22, Dunlevy moved the ball to the 37 yard line on a 15-yard run. After a five-yard carry by fullback Matt Boessman got the ball to the 42 yard line, Dunlevy ran for seven more to get the ball to midfield. With 1:48 left in the quarter, Dunlevy ran for a 51-yard touchdown run, finishing off a five-play, 78-yard possession. The PAT failed.
Hoping to get into the locker room down by just a touchdown, Kennett's hopes were dashed by Roberts' second TD pass of the night – a seven-yard screen toss to wide receiver Nick Corialos with 18 seconds left, followed by a two-point conversion, that gave WC East a 21-6 lead at halftime.
While Kennett looked for any openings they could find against the vaunted WC East defense in the third quarter,  Roberts continued his stellar performance, with consecutive scoring drives. A six-play, 75-yard scoring drive ended with a 27-yard touchdown pass to running back Steven Borum with 8:28 left in the quarter to make the score 28-6, which was quickly followed by a two-yard carry by Creekmur to give WC East a commanding 35-6 lead.
With the game solidly out of reach, Dunlevy tacked on his second touchdown of the night with a 25-yard run with 5:03 left in the game.  
"Our win against against Avon Grove isn't going to define our season, and a loss to West Chester East isn't going to define our season," said Kennett head coach Scott Green. "How we react to it, how we prepare for week three, is going to determine how this team is going to finish this season. We have a young team right now, and we have to learn from that."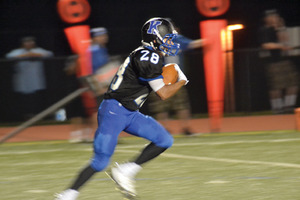 Despite the loss, Green said he saw flourishes of what he and his coaches have taught the Kennett team since summer practices. "I was very happy with the way we moved the second half," he said. "All year, we have preached mental and physical toughness and not giving up, and having a fighting attitude."
Kennett (1-1 in the Ches Mont American) visits Pius X in Bangor, Pa on Sept. 13, while WC East plays host to Bayard Rustin on Sept. 12.
To contact Staff Writer Richard L. Gaw, e-mail rgaw@chestercounty.com.
                                                1          2          3          4          Final
West Chester East                 6          8          7          14        35
Kennett                                  0          6          0          7          13