Camp Dreamcatcher offers hope and inspiration
08/26/2014 08:47PM ● By Lev
By Steven Hoffman
Staff Writer
The children create a joyful symphony of sounds that echo throughout the Camp Saginaw property. Some of the delightful noise comes from the pool area, where boys and girls splash and shout. These sounds are balanced by screams of delight that originate in the opposite direction, where boys and girls are racing up and down a field in exuberant pursuit of a soccer ball. One group of the younger children is enjoying a visit from "Mini Cooper," a therapeutic horse from Quest Therapeutic. Some of the older girls are walking together along the path that leads to the cabins, giggling and laughing. Not far away, a group of boys race Go-Karts with an enthusiasm that is rare in anyone over the age of 12. The shouts and laughs of 126 children swirl and mingle and drift in every direction at once.
This is Camp Dreamcatcher.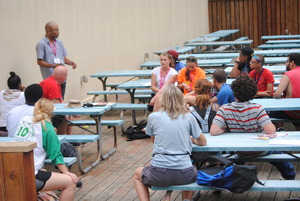 Each year, children from throughout the Mid-Atlantic region arrive for a week-long camp that blends those traditional and fun activities of a summer camp—the swimming, the fishing, the soccer-playing—with a therapeutic and educational component that serves to nourish the wounded souls of youngsters who either have HIV or AIDS themselves, or have close family members with the disease.
Patty Hillkirk founded Camp Dreamcatcher in the mid-1990s because she saw that children who were dealing with the challenges of HIV or AIDS lived lives of secrecy and unnecessary shame. These children needed professional counseling; they needed adults in their lives that they could trust; they needed various forms of therapy; and, perhaps most of all, they needed a safe environment where they could just be children.
That place is Camp Dreamcatcher.
"We focus on HIV and AIDS, but the issues that we deal with are so much wider than that," explained Hillkirk. "Many of our kids face drug abuse or community violence."
In an effort to address those wider issues, the Camp Dreamcatcher team presents therapeutic and counseling sessions that focus on real-world issues that many of the youngsters are facing: bullying, community violence, the need for proper nutrition and health, and the importance of making good life choices.
This year's camp took place from Aug. 17 to Aug. 24, and the full scope of what Camp Dreamcatcher has become was on display.
Emmalee Bierly, one of two Camp Dreamcatcher program directors, said that the camp combines education, therapy, and recreation at the same time.
"Some of these kids have lives that are really difficult," explained Bierly. "They have to be more of an adult than they should have to be."
Hillkirk and the dozens of camp counselors, health center volunteers, and group leaders have formed personal relationships with the young campers. Part of the reason for those close relationships is the individual attention that campers receive, and some of those relationships stretch back 19 years.
Miguel Correa, 24, is now a camp counselor who works with some of the teen campers, but he started out at the age of five as one of the first campers. Many other children have been involved with the program for a decade or longer.
Similarly, many of the counselors and village chiefs return year after year. And when one person can't make it back for a year or two because of work or personal obligations, often they will find their way back at the first chance they get.
"That really shows how this become a part of you," explained Bierly. "There's an energy here that keeps people coming back."
"People who come to camp stay," explained Myquan Harris-Moore, 23, a counselor. "You fall in love with these kids."
Harris-Moore first came to Camp Dreamcatcher at the age of 11 with his cousin, who is HIV positive, and has been coming back every year since, eventually becoming a counselor so that he could help provide support to youngsters. Many of the children have a difficult time opening up to others, especially those who have been let down by adults in their lives.
"When the kids can relate to a counselor, that's when they will open up and trust them," Harris-Moore said.
Some people, like Allan Torres, have a natural ability to relate to the youngsters. Torres, who is known to campers simply as "Big Al," owns Zen Martial Arts studios. He's been teaching martial arts at Camp Dreamcatcher for the last 11 years, focusing on self-defense techniques and making children more aware of their surroundings and the circumstances that children might be in.
Torres said that he will create hypothetical scenarios for the youngsters and ask them how they would handle the situation. Sometimes, one youngster will make a mistake and choose the wrong response to a situation, but the other kids will quickly chime in with a better response.
Torres' classes are enormously popular with the youngsters at camp. When he held his first session eleven years ago, he recalled, there were just five students who took part. But by the end of that camp, there were maybe 30 children participating. The class has become so popular over the years that now between 50 and 60 youngsters attend each session. They take place early in the morning, but everyone is willing to sacrifice sleep for the chance to be in one of Big Al's classes.
One student became so interested in martial arts that he started training year-round and is now a second-degree black belt.
While many youngsters see a benefit from what Torres teaches them, the martial arts instructor says that the benefits are reciprocated. Getting to know and work with the youngsters is very special to him, Torres said. He recalled one time when he helped a boy make a bench during camp. When it came time for the boy to leave at the end of the week, Torres saw him get on the bus to go home. A moment after the bus started down the lane, it came to a stop. The boy ran off the bus and gave the bench to Torres, telling him that he should keep it in case the boy couldn't make it back to camp the next year. Torres and the boy have remained close through the years. That youngster is grown up and is now a good father.
"He became a very responsible person, he became a man," Torres said.
It's not uncommon for counselors and campers to form strong bonds.  A counselor named Corey was a camper for eight years before undergoing the training necessary to work with youngsters at the camp.
"I wanted to give the kids some of the same experiences that I had," explained Corey.
Correa is similarly motivated—he wants to make a difference in a child's life the way that Hillkirk and some of the counselors made a difference in his life. He went through a leadership-in-training program that Hillkirk designed so that some of the campers could transition into counseling positions. It's evident that Correa enjoys working with the youngsters.
"It's a really cool experience to see them growing up," he explained.
The biggest change in Camp Dreamcatcher since its inception, Correa said, is the ever-expanding programs for older campers. Although the week-long camp remains the focal point of Camp Dreamcatcher, there are now also leadership-in-training sessions, weekend retreats, an adopt-a-family program at Christmas, and a mentoring program that pairs younger children with an older camper or counselor. These activities, which are all free to participants, take place throughout the year even though camp officials and children are scattered throughout Pennsylvania, Maryland, Delaware, New Jersey, New York, and Virginia.
Year-round programming was unthinkable in the mid-1990s when 28 volunteers offered therapy sessions to 50 or so children, all of whom were under the age of 13. Back then, those young campers who were infected with HIV or AIDS couldn't expect to live long, full lives because the treatments available couldn't keep the disease at bay. That has changed significantly. Today, a child with HIV can lead a long and productive life by combining a healthy lifestyle with proper medicine and care.
Hillkirk and the Camp Dreamcatcher staff do everything they can to assist youngsters as they transition into adulthood.
Gilberto has been coming to Camp Dreamcatcher since he was seven years old. He is now about to be a senior in high school, but is in no hurry to leave his friends at Camp Dreamcatcher behind. Correa was his first counselor, and Gilberto said that he has helped him a lot through the years—so much so that he views him as a role model.
"I really look at him like an older brother," Gilberto explained.
He's close to the other campers, too, noting that it's important to have other kids around who understand what you're going through—who have likely had the exact same thoughts and emotions. It's this emotional connection to each other that really bind the campers and counselors at Camp Dreamcatcher.
"A year from now, I don't care whether I'm in college, have a job...this is a part of who I am. This is my life. To me, Camp Dreamcatcher is like one big family."
Even though campers like Jim, Yasir, and Reagan are all young, they also consider Camp Dreamcatcher to be an important part of their lives—something that they look forward to throughout the year.
Gilberto said that Hillkirk is another one of his role models. He and other campers marvel at what Hillkirk has created. Camp Dreamcatcher draws from a wide area in a densely populated part of the U.S. There are few other camps of this kind around. Last year, Hillkirk was honored with the Alumni Recognition Award from Penn State University's Alumni Society of the College of Health and Human Development. The camp was also featured in a documentary on worldwide AIDS efforts titled "Tiny Tears."
Another illustration of Camp Dreamcatcher's continued success is how many connections it has with businesses and other organizations in the area. The camp has long had strong ties to West Chester University and its students. This year, several sports teams from Immaculata University worked with the children on how to play specific sports. Camp Dreamcatcher's leadership-in-training group visited the campus of Immaculata University to learn about the college admissions process.
A group from La Salle University came in to talk about the stigma attached to HIV and AIDS. Secrecy and the fears about sharing are still widespread for youngsters who are impacted by AIDS.
"What we find out," said Hillkirk, "is that most of the kids still haven't told anybody outside of camp. It's still a secret that they keep."
Camp organizers work with many different businesses and organizations to bring in special offerings to youngsters. Liana Pomales and Annette Maazaoui were among ten volunteers from Bank of America on hand to share lessons on how banks work, basic information on the services that banks provide to customers, and how to save money for what you want to buy.
"It's nice to have volunteers like this who have expertise that they can share with the kids," said Bierly. "It's also about reaching out to the community. We need to get the community involved. It's great for the kids to know that the community around them cares."
Camp organizers arranged for a variety of activities, ranging from magic shows to performances by the Hedgerow Theatre to nutritional information classes by MANNA.
There's no telling what will resonate with a young, impressionable camper and make a difference in his or her life.
One example: Hillkirk recalled that Correa always loved doing performances at the camp, even when he was five years old. He was no doubt influenced by other performances that he saw take place on the Camp Dreamcatcher stage. Now, as a young adult, he is a member of a band, Watching Savannah Burn, and will be performing a benefit concert for Camp Dreamcatcher in Lancaster, Pa. on Dec. 1. The concert is in recognition of World AIDS Day.
Like a proud parent, Hillkirk loves seeing the campers grow up and succeed. Some of the campers from the early years have grown up to graduate from college, embark on their careers, and start families. Nearly 5,000 youngsters have benefited from Camp Dreamcatcher's programs through the years.
And each year, another group of children join the extended Camp Dreamcatcher family.
This year, Hillkirk said, there were thirty-seven new campers.
"It really is a growing environment," explained Stephen Pietrzykewski, a senior counselor.
It's also a safe, nurturing environment, and the importance of that for these youngsters can't be overstated.
If Camp Dreamcatcher is not their permanent home, it is their home in spirit, a place that they long for and hold tight to during times of struggle.
Hillkirk understands how important Camp Dreamcatcher is to the children because it's vitally important to her. She's devoted her professional working life to this camp, tackling the challenges that inevitably come up one at a time.
Just a few weeks before this year's camp, there was a waiting list of about 20 children that the camp didn't have funds for. Hillkirk desperately reach out to some of the camp's most loyal financial supporters and was able to raise about $15,000 within two weeks.
"We were able to achieve that through the generosity of our donors," Hillkirk said.
The longterm goal for Hillkirk and the Camp Dreamcatcher team is to own property that could serve as a permanent home so that even more programs could be offered year-round.
That would at least ease one of the more difficult things that the Camp Dreamcatcher team members do each year.
"It's really hard to say goodbye to these kids at the end of the week," Bierly said.