Ten Gallon Hat Winery steps up its game in Chadds Ford
08/19/2014 05:21PM ● By ACL
Chris Dion behind the bar at the Ten Gallon Hat Winery's small tasting room in Chadds Ford.
By John Chambless
Staff Writer
"I think people take wine too pretentiously. I want to bring wine down a little bit," said Chris Dion, the founder of the Ten Gallon Hat Winery. "If you're going to put a winery in a barn, hey, the hat kind of goes with the territory."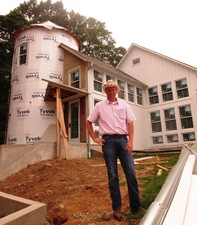 In a couple of weeks, Dion will be opening the expanded tasting room for Ten Gallon Hat in a spectacularly renovated barn in Chadds Ford. It's right next to the small former blacksmith shop where the winery has been serving samples on weekends since December 2013. The new facility, though, will be a whole new world for visitors.
Dion had been a hobbyist winemaker while working as an electrical contractor for more than 13 years. The downturn in the economy led him to jump into the wine business full time in January 2012. The wine is made in a warehouse facility in Yeadon, Pa., and the bottles are shipped to the Chadds Ford tasting room. Dion purchases the grapes from a top supplier in California and a vineyard owner in Maryland.
The tiny tasting room in Chadds Ford has been drawing a steady stream of visitors who come to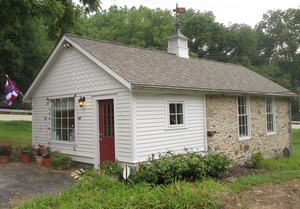 the area for its many attractions, including several other nearby wineries. Ten Gallon Hat isn't part of the Brandywine Wine Trail, but Dion said he fits in well with the region's other winemakers. "We don't compete in this industry," he said. "I get a lot of people here from Chadds Ford Winery, and we send a lot of people there. Kreutz Creek, Paradocx, we all share. We try their wines, they try ours."
Dion searched more than 20 other properties before settling on the renovated blacksmith shop and the nearby barn, which was empty and unused, but full of potential. The original tasting room opened in December 2013. The mood was country casual as staff members, wearing cowboy hats and plaid shirts, welcomed visitors and explained as much -- or as little -- about winemaking as customers wanted to learn. 
The barn renovation has been great advertising for the winery, as the thousands of motorists who pass by each day on Route 1 have seen the old building get a complete transformation. During a walk-through last weekend, the huge, unfinished interior was already impressive. 
"When we started, you could move this whole barn with your fingers," Dion said. "There was a lot of damage. We reframed the entire thing. We just kept the existing timbers to keep some of the history here."
Starting with the framework of the original structure, Dion and his architect envisioned a modern facility that retained a down-on-the-farm informality. The lower floor is being called the Stable, and will be the main site of wine tastings on weekends around a three-sided bar. The main floor is called the Corral, and has a wide-open atmosphere. "This will have more of a Starbucks atmosphere, with tables, couches and chairs," Dion said. "We won't do tastings up here, we'll just do purchase by the bottle or by the glass. We'll also have a commercial kitchen and we'll do desserts, cheeses, meat platters, light fare. Not a restaurant, though. We don't have a grill."
The main room is overlooked by a loft where there will be other tables and chairs. The massive fireplace will be covered with the barn's siding planks, and a huge chandelier will hang in the main room. The floor will be white oak.
"We can bring a two-piece band, have some live music on Fridays, Saturdays and Sundays," Dion said.
Dion thinks the space would be ideal for smaller groups, such as bridal showers, but isn't designed to handle full wedding receptions. "We want to keep it quaint. If it gets too crowded, then it changes the ambiance," he said. 
The silo has been turned into an observation deck, where visitors can climb a few stairs to look out of the upper windows at the Chadds Ford scenery. The silo exterior will be sheathed in silver galvanized siding, Dion said, which will contrast with the white building. "I always like a white barn," he said, smiling.
Ten Gallon Hat Winery will be open Thursday through Monday, as well as for special events and group reservations on Tuesdays and Wednesdays. Dion expects to be hiring additional workers, and he'll be driving from his West Chester home to greet visitors as often as possible. As Ten Gallon Hat gets ready for its makeover debut the first or second weekend in September, Dion said the location just feels right.
"We're two miles from the front door of Longwood and two miles from the entrance to Brandywine Battlefield," he said. "It's a perfect spot."
Ten Gallon Hat Winery is located at 455 Old Baltimore Pike (Route 1) in Chadds Ford. Visit www.facebook.com/TenGallonHatWinery for updates.