An unlikely Fried Mushroom Eating Contest participant shares her experiences
08/19/2014 04:53PM ● By ACL
It's daughter against father in a friendly competition during the 2012 Fried Mushroom Eating Contest.
By Avery Lieberman
Correspondent
Each person demonstrates his or her love of mushrooms in different ways. Some buy an apron with a mushroom pattern, others indulge in the mushroom risotto. I show my love for this community and the mushrooms it produces through the Fried Mushroom Eating Contest. For the past two years, this competition has been the highlight of my weekend at the Mushroom Festival.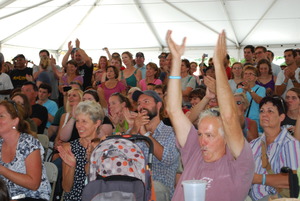 Two years ago, I stood in front of a crowd on State Street. I was wearing a bright yellow skirt and green heels. I certainly did not embody the definition of an eating competition contestant. The others standing beside me were more suited to the definition, each with at least 100 pounds on me. But those people weren't my competition. Standing next to me was the person  I was determined to beat, my dad. This was an old-fashioned father-daughter bonding experience. 
When the competition began, I had exactly eight minutes to prove that I was not just a 100-pound girl in a skirt standing in front of a crowd. I was a winner. After a few minutes went by, I could see my dad starting to slow down. This is when I sped up. With each fried mushroom that went into my mouth, I regretted not wearing stretchier pants. All my years of competitive ice hockey couldn't compare to this. This contest was a real test of my endurance. 
As the eight-minute timer went off, the race was done. I glanced down at the table. Most of the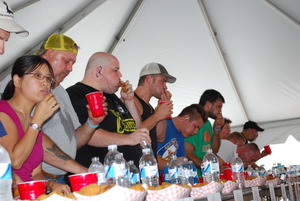 contestants had eaten more than me. Some had eaten three or four pounds of fried mushrooms. The winner had eaten over five pounds. This didn't matter to me. They were professionals. I looked over to my dad. Then, as the official tallied up my mushrooms, I looked out to the crowd. I was the 2012 Fried Mushroom Eating Contest Amateur Winner! With two-and-a-half pounds of fried mushrooms swimming through my body, the only thing keeping them down was my victory. 
Maybe entering in an eating contest isn't for everyone. But who doesn't love watching grown adults try to stomach as many fried mushrooms as humanly possible? 
This year, the beauty-and-the-beast matchup is not between father and daughter, but between two professional eating champions. Molly Schulyer is the number-one ranked independent competitive eater in the world. Her list of victories includes being the national hot chicken eating champion, the national Oktoberfest bratwurst eating champion, and being able to eat a 72-ounce steak in two minutes and 44 seconds. 
L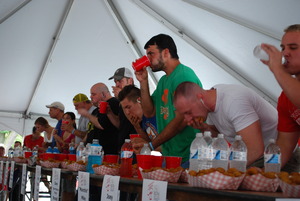 ast year, I had the privilege of  competing with Molly in the Fried Mushroom Eating Contest. Going into the competition, I did not know what to expect. She had entered in the professional category, but she was even smaller than I was. 
At the end of the eight minutes, as the official read of the total amount she had consumed, I was taken aback, along with the rest of the crowd. Molly had eaten nine pounds of fried mushrooms. She was the winner of this contest by a wide margin. Molly is now the local -- and world -- record holder for eating fried mushrooms. 
In her second year of participating in the contest, she will defend her title against Will Millender.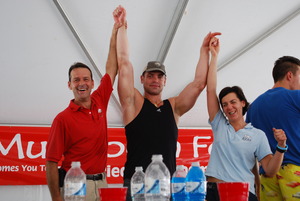 Millender is the seventh-ranked independent competitive eater in the world. He is the national mac and cheese ball eating champion, and the stinky cheese eating champion, among other victories. With his ability to consume that much cheese, he is sure to be a tough competitor.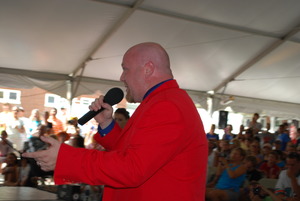 If you haven't seen the Fried Mushroom Eating contest yet, make sure that you do this year. If you have seen it in the past, I invite you again to cheer on your favorite competitor. For the competitors, or at least for me, those eight minutes are the longest eight minutes. But for the spectators, you'll see something you never thought any human being was able to do. 
This year's contest takes place on Saturday, Sept. 6 at 3 p.m. in the Special Events tent. There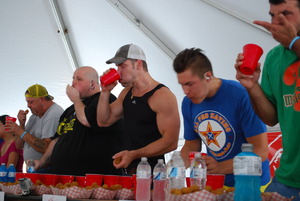 are still spots available in the amateur contest. There is a $200 prize for the top male amateur and female amateur contestant. Registration information and all the details about the 2014 Mushroom Festival are available at www.mushroomfestival.org.