A special time to share with mom at Hopewell Elementary School

07/17/2014 02:23PM ● Published by ACL
Fifth grader Abigail Higgins with mom Leah.
Hopewell Elementary School recently invited parents to join students for a "Moms, Miles & Muffins" breakfast to thank them for their support of the school's anti-bullying program. The cafeteria was packed with students, parents, and grandparents who enjoyed muffins, bagels, milk and juice. Many of the parents joined the students as they made their daily morning walk around the stadium track as part of the school's Mileage Club activities.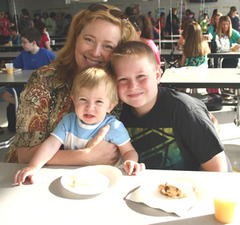 Schools
hopewell elementary school
mileage club activities.