Sixth-inning hitfest fuels Avon Grove 7-1 victory
05/14/2014 02:23PM ● By ACL
Avon Grove's Ryan Guckin's single ignited a six-run sixth inning for the Red Devils.
By Richard L. Gaw
Staff Writer
Coming into last Friday's game, the Avon Grove Varsity baseball team was riding a three-game losing streak and a punchless hitting attack, the Red Devils were looking for a much-needed break-out moment in order to remain viable in already crowded race for the top spots in the Chest-Mont. 
Toward the conclusion of their 7-1 victory over visiting Coatesville, that moment finally arrived.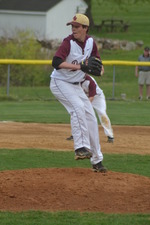 After managing to push across only one meager run and compile five hits in their first five innings against crafty southpaw Bobby Kuehn, Avon Grove teed off on Kuehn during a six-hit, six-run sixth inning, highlighted by a two-run single by Tyler Bonner.  
After a fly out by Mike Dietz began the inning, the Red Devils then put seven consecutive runners on, starting off with a single by Ryan Guckin and a run-scoring double by Joe Thompson. Elliott Forde then walked, setting up Bonner's single, which was followed by run-scoring singles by Vince Drake and Johnny D'aquanno. 
The win also saw the re-emergence of Avon Grove's top pitcher Eric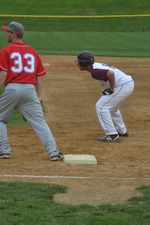 Ligda, who returned to the mound after an extended absence due to an injury. Through five innings, Ligda held Coatesville to one run on four hits, with no more than one hit per inning. The Red Raiders' only run of the day came in the top of the second, when Jared Urban reached on an error by shortstop Forde and later scored on a single to left field by Jorge Rodriguez.
"Eric only threw one game early in the year, and he was finally cleared early in the week," said Avon Grove head coach Dave Whitcraft. "I told him we need to get three innings and 50 pitches out of him. He was at 49 through the fourth, so we let him go another six pitches."
After notching two strikeouts and surrendering no walks in his return, Ligda surrendered the mound to reliever Joe Thompson, who gave up only one hit while picking up the win.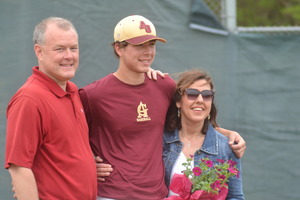 "Over the last three games, we've been undisciplined at the plate," Whitcraft said. "We've been going three-up, three-down, and haven't been able to stop the bleeding offensively. This was our bye week. We had a game postponed and nothing for three days, and I attribute our success to [our players'] discipline at practice Tuesday, Wednesday and Thursday. We focused on being selectively aggressive, and it finally showed."
In addition to the effective pitching performances of Ligda and Thompson, Avon Grove was led by multiple-hit games from D'aquanno, Guckin, Bonner and Drake. Both teams' record stood at 11-7, which places them in the running to qualify for the Class AAA District playoff bracket, the field of which will be determined this week.