By Steven Hoffman
Staff Writer
The owners of four properties in Kennett Square Borough were presented with Historic Preservation Awards at Monday night's council meeting.
Susan Myers, a member of the borough's historical commission, made the presentations.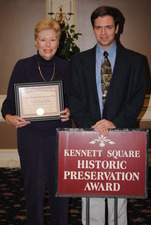 "May is Historic Preservation Month and the Kennett Square Historical Commission is here to recognize four property owners for their outstanding efforts to restore, renovate and preserve their buildings in the borough's historic district," Myers said. "Such efforts not only improve and enhance a building, but contribute to the character and historic integrity of the immediate neighborhood and the entire district."
Anne and Andrew Einstein received the 2014 Historic Preservation Award for what Myers described as "the careful restoration of a gem" at 119 E. Linden Street. The property is commonly known as the Edwin Brosius House.
"Their renovation plans did not require review by the Historical Commission because of their use of 'like-kind' materials and finishes," Myers explained. "This restoration project retains and preserves the original architectural style and details of this stately 1870 Italianate house."
Dan Gannon received a certificate of recognition and appreciation for work on the John and Susan Lamborn House, a 170-year-old Federal-style home at 200 North Union Street.
"Dan attended one of our meetings to seek information regarding work he planned to do on the office building," Myers explained. "The scope of work included painting the exterior walls and doors, re-glazing and painting the windows, rebuilding and painting shutters and putting on a new roof. All of these improvements fell into the category of 'like-kind' repairs and didn't need a formal review."
The Historical Commission also recognized the efforts of Joe and Liz Reilly for their façade improvements to the property at 123 E. State Street, which is the home of Vignette.
"The Reillys and their architect, Dennis Melton, met with the Architectural Review Board to discuss their plans," Myers explained. "The new color palette greatly enhances the character and beauty of this Queen Anne-style building."
Myers added that the work on this building helped to keep the business district attractive and vibrant.
An award was also presented to Donna Eliot for the complete rebuilding of a circa 1900 stone barn at the rear of her property at 511 West State Street. The dilapidated structure could be seen from the 500 block of West Linden Street.
"It was in very sad shape until a tree limb fell on it and collapsed what was left of the roof," Myers explained. "Referring to a few old photos, Donna's contractor reused the stone and the slate roof tiles to reconstruct the barn to near-original condition."
Myers said that the Historical Commission always appreciates the opportunity to meet with property owners in the borough to ensure that historical preservation efforts continue.
"The Historical Commission wants to thank all of the building permit applicants that we met with in the past year for considering the advice we gave them on their renovation plans," she said. "It is our mission to keep a sense of history tangible and visible in the borough for generations to come."