Corbett talks fiscal discipline, limited government at chamber event
05/07/2014 12:54PM ● By ACL
Pennsylvania Gov. Tom Corbett was the keynote speaker at the Southern Chester County Chamber of Commerce's annual luncheon on April 30. The discussion was moderated by Sue Schick, chief executive officer of UnitedHealthCare of Pennsylvania and Delaware.
By Richard L. Gaw
Staff Writer
At a time when his popularity has reached catastrophic lows, as evidenced by recent poll numbers that threaten to sink any possibility of his re-election as the governor of Pennsylvania, Tom Corbett stopped in Chester County last week in an effort to kick start his flagging campaign.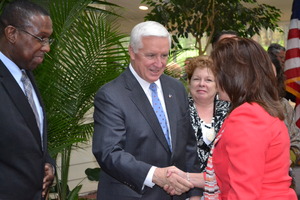 Corbett served as the keynote speaker at the Southern Chester County Chamber of Commerce annual luncheon, held April 30 in the Grand Ballroom of the Mendenhall Inn. A pre-selected list of questions were posed during an hour-long conversation with moderator Sue Schick, chief executive officer of UnitedHealthCare of Pennsylvania and Delaware.
In the more than three years since his election, however, Corbett's approval ratings have plummeted, due mainly to what many believe is his tighten-the-belt budget cuts, his controversial opening of the state to natural gas extraction, and the fuzzy numbers he has provided about new job growth in the state. A recent Franklin & Marshall College poll showed that 55 percent of voters do not approve of Corbett's re-election, and in other polls, that number has been as high as 65 percent – which sets a course for Corbett becoming the first governor in the state to lose a re-election bid since 1970.
With Democratic and Republican primaries set for May 20, Corbett is in a race with Democrats Robert McCord, Allyson Schwartz, John Hanger, Jack Wagner, Katie McGinty and Tom Wolf.
Despite a lengthy list of competitors, Corbett's re-election efforts have been strengthened by a proven record of cutting taxes, a reduction in spending for the first time in four decades, and an influx of more than what he has said has brought 150,000 new jobs in Pennsylvania – all of which he repeated at the luncheon.
"You have to make revenues and expenses and see that revenue is higher than your expenses," Corbett told an audience of 200 business leaders. "We are required to have a balanced budget, on time, and see that revenue and expenses have to match. When it came to funding our budget, I had two choices, either reduce our spending or generate more revenue. There's only way to guarantee revenue, and that's to increase taxes. I promised that we would control our taxes. I knew that we needed to control our spending. The more you see controlled taxes, the more you see an economy grow. As you increase taxes, you start to see an economy start to go down."
Corbett said that a major component of his first term was an effort to bring new businesses to Pennsylvania, and create incentives, such as re-structuring the state's tax structure as a means of encouraging businesses to come to the state, as well as eliminating inheritance taxes for small businesses, such as small family farms.  
"We want to be an advocate for businesses, and help [them] do it the right way," he said. "When it comes to jobs, you have to create an environment."
Corbett cited a 2013 article published in a leading business magazine that said that Pennsylvania was ranked the highest of any state in the Northeast for expanding the job numbers for existing corporate headquarters and establishing new corporate business centers – and ranked fourth in the entire nation.
Getting there takes a bold investment in education in the state, and Corbett lauded his record of seeing more funding for education in Pennsylvania than at any other time in its history.  
"We're getting our higher education to teach to the 21st Century, not the 20th Century [in an effort to stimulate the workforce]," said Corbett, who stressed the state's focus on technical eduction. "There are jobs that people had 20 years ago that don't exist anymore. They can't be looking to do the same job. It's not there anymore. I'm sure every one of you can think of something that is done completely different than it was years ago. We're really trying to change education. We need to have our children ready when they graduate high school to go into the workforce and go into the military.
"How many of you would take a $200,000-a-year job?" he added. "Go become a welder and join the natural gas business in Pennsylvania. Welders are in demand. That's where the job demand is." 
Since his election, Corbett has been both candid and unapologetic in his steadfast commitment to championing the efforts of the oil and gas industry to tap natural gas sources along the Marcellus Shale. Despite protests from environmental groups and calls for a moratorium on fracking, Corbett has given tax credits to gas companies and instead charged drillers an impact fee, a move that his critics have said has led to public service cuts in the state.
At the luncheon, Corbett again praised his efforts to bring the gas and oil industry to Pennsylvania, linking the exploration and extraction to what he said has led to 200,000 jobs. Economists across the state have disputed Corbett's numbers, and Pennsylvania's department of labor does indeed state that a little more than 30,000 people actually work directly in the gas and oil industry in the state. Further,   one report said that the natural gas excavation employs less than one percent of the 5.5 million jobs in the state.
"We have areas of Pennsylvania with high unemployment," Corbett said. "We see areas that are desperately unemployed. We're creating new jobs, jobs that you never heard of before. We've created jobs that help to clean up the frack water. 
"We're drilling down 6,000 feet and then turning the drill," he added. "It goes out about a mile, then fractures the rock and gets the gas. I have been told repeatedly by many different sources that the supply of natural gas in Pennsylvania is 200 years. We have great potential. I know that some people like it. And some people don't...but this is a commonwealth. 'Commonwealth' means 'for the common good.' We're looking to grow our economy."
Last September, Corbett unveiled his Healthy Pennsylvania plan, intended to increase access to healthcare, expand the quality of services and provide affordable options for Pennsylvanians. While he praised the particulars of his own program, Corbett criticized the Affordable Healthcare initiative developed by the Obama administration as "having too many unknowns." Rather, he suggested that health care should be created in a state-by-state fashion, one that caters to the specific needs of each state. 
"It's not working," Corbett said of the Affordable Healthcare Plan. "One of the reasons is the economy is not doing better is that there are too many businesses sitting on the sidelines waiting to see what the provisions of our health care program are."
Corbett rounded out his visit to Chester County with discussion on the state of transportation in the state, yet another white-hot issue in his race for re-election. In a 2013 report issued by TRIP, a national transportation research group, 37 percent of the state's major roads and highways – and 42 percent of its bridges – are deteriorating. In addition, these conditions cost Pennsylvania drivers about $9 billion annually. Corbett shared news that thanks to a commitment from Harrisburg to spend a minimum of $1.7 billion in transportation over the next five years, the state will be developing 250 transportation projects across the state, which he anticipated will create 18,000 jobs in the process.
"You're going to see this all over the state," Corbett said. "In addition to growing the economy, we're going to save the economy."