New Twin Pines Health Care Center unveiled
04/23/2014 03:04PM ● By ACL
Part of the grand-opening ceremonies at the Twin Pines Health Care Center included a ribbon-cutting ceremony.
By Steven Hoffman
Staff Writer
The word that kept coming up at the grand-opening of the sparkling new Twin Pines Health Care Center was "excitement."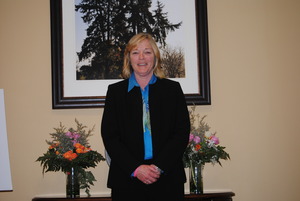 After years of planning and anticipation for the new skilled nursing and rehabilitation facility, the April 10 open house to celebrate its official grand-opening attracted dozens and dozens of people who were all excited that the big day had finally arrived.
"This is very exciting," said Ellen Mountford, the administrator for the center. "It showcases our passion for our people—and we love the people that we provide care for."
Longterm-care patients began utilizing the new building on East London Grove Road in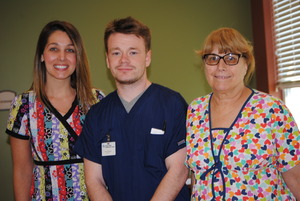 Chatham in February. The 120-bed facility includes 24-hour nursing care, respite care, wound care, medication management, IV therapy, including IV antibiotics, and occupational, physical, and speech therapies. Men and women can also recover from neurological, stroke, or cardiac issues under the care of dozens of professionals. There are lab, X-ray, and pharmacy services on-site, as well as podiatry, dental, eye, and audiology care.
Mountford, who first came to the facility in 1998 and became its administrator two years later, said that construction of a new building with its modern amenities had been a goal since Bedford, Ohio-based Saber Healthcare Group took over five years ago.
Mountford explained that the space limitations and the aged infrastructure of the old building made it difficult for the staff.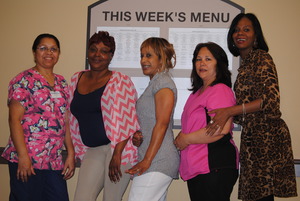 "It was a fantastic building in its day," she explained, "but it was old and it was difficult for us on a day-to-day basis."
Even in the old building, however, there was a commitment to personal care.
"Everybody in every department knows every resident's name," Mountford explained.  
Mountford oversees a staff of about 115 employees, including 70 professionals who are involved directly with providing nursing care or rehabilitation services. Mountford said that the professional staff has always taken a great deal of pride in providing the highest quality of care, but the new building will offer an environment and an experience that matches the level of care.
The new facility, Mountford said, will allow for more specialized skilled care. 
There are private and semi-private rooms, a large dining area, common areas, a doctor's office, and a chapel. Many of the people who seek care at the center need some sort of rehabilitation after surgery.
"Our big focus," said Mountford, is to get them rehabbed and get them back home so that they can get back to their lives."
There is an environment of community at Twin Pines, and residents are encouraged to be as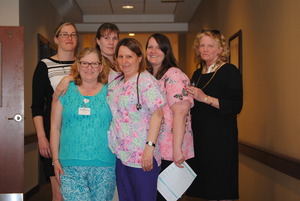 active as possible by enjoying arts & crafts, seasonal parties, live entertainment, monthly outings. The daily activities are developed focusing on exercise, fellowship, and fun.
One of the most important features of the new building is a spacious therapy gym. Here, occupational therapists like Bonnie Pekich and speech therapists like Amy Rineer will collaborate to help people as they rehabilitate.
The therapy gym includes a lot of exercise equipment that will allow people to improve their strength and balance.
"We also have a full kitchen to do re-training of kitchen tasks," Pekich explained.
The environment is one where the professionals, ranging from doctors, members of the nursing staff, the therapists, and social workers can collaborate to provide the best possible care for patients.
Jessica Brantner, the director of nursing said, "the care that we provided has always been there, even in the old building, but the look of the old building didn't really reflect the level of care that we give. This new building will allow us to demonstrate the good care that we provide." 
Twin Pines Health Care Center accepts Medicare and Medicaid. Other payment options include Medicare replacement plans, most commercial insurances and private pay.