Local golfers compete in national youth tourney at Hartefeld
04/08/2014 03:30PM ● By ACL
Eleven-year-old Rylie Heflin with her father, Rob, at the Hartefeld National Golf Course.
By Richard L. Gaw
Staff Writer
Some of the finest young golfers in the United States flocked to the Hartefeld National Golf Course this past weekend, with a few coming from as far away as Arizona and Canada. 

In contrast to the many weary travelers who arrived in Avondale tired from travel, all 11-year-old Rylie Heflin had to do was walk outside the front door of her home.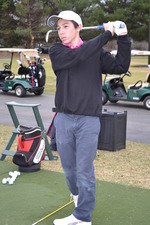 Heflin, who lives with her family in a home that borders a hole on the Avondale course, was one of 65 golfers between the ages of 9 and 19 who braved 35-mile-per-hour winds to compete in the International Junior Golf Tour's Major Championship on April 5 and 6. This tournament is one of 60 events the tour sponsors around the United States each year that give highly skilled young golfers a chance to compete against some of the top talent in their respective age groups.
Since its beginning in 1995, the IJGT has become one of the largest proving grounds for the nation's best young golfers, where players from 43 states and 43 countries compete in tournaments at some of the most prestigious golf courses in the nation. In addition to attracting the interest of college coaches, players compete for double IJGT Merit Points and national rankings, as well as an invitation to the IJGT's Bridgestone Tournament of Champions, which will be played this year on May 24 to 26. 
The IJGT selected Hartefeld as the site of this tournament for several reasons. "One, the course is magnificent, nothing but top-notch," said Zach Pennington, IJGT's Northeast Regional Director and the tournament's director. "Our biggest membership is, in fact, in the Philadelphia, New Jersey and metropolitan area, and we wanted to bring a major tournament to our Philadelphia membership -- one that would challenge golfers and yet also be welcoming to the junior golfers."
Hosting an event like the IJGT amounts to a giant feather in the cap for Hartefeld's future aspirations, one of which is to host a PGA tour event, which it last did in the late 1990s.  
"This is excellent for the growth of the game and build-up the reputation of the club," said Frank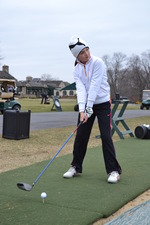 Lavacca III, director of golf at Hartefeld. "The tour is a platform for golfers of the future, so being able to get them on our calendar has meant a lot to us. Events like this weekend, as well as being host to other tournaments, all help us toward that goal. Our conditions and our location attract people.  I think we're already there, and it's only going to get better."
The tournament was dotted with several locals, many of whom finished in the top tier of the tournament. In the Boys 15-19 Division (Par 72), Ryan Rucinski of Wilmington, Del., shot a 152 for the weekend, good enough for second place, while Brandon Bree of Kennett Square shot a 160, good enough for eighth place in a field of 45. Other local golfers who competed in this age group were Liam Murphy and Joe Togani of Hockessin; Matthew Cleary, Ryan Cleary and Reed Winkler of Wilmington; Kevin Levitsky of Oxford; Ryan Bree of Kennett Square; and Ethan Means and Alex Patellis of Landenberg.
In the Boys 14 and Under Division (Par 72), Evan Brown defended his home course to win the Major Championship with a combined score of 150. In round one, he had two birdies, coming on par-fives on the front nine. He finished the first round with a four-over-par score of 76, which gave him a four-stroke lead going into the last round. On day two, Brown began his front nine with six pars, and added a birdie on the par-three hole number 14. He headed into the final nine holes with a one-over-par, and added two more birdies during his final nine holes.
Other local competitors in this division were Marc Groenhuysen of West Chester, who finished in second place with a combined score of 157.
In the nine-player Girls' Division (Par 72), Esther Park of Wilmington shot a combined 167 for the tournament, good enough for third place.
Heflin, a student at Sanford School in Hockessin, may have finished with the highest score in her division, but to her father, Rob, it's not about the breaking par just yet. He said playing in the IJGT tour gives his daughter the chance to compete on a higher playing field.  
"For her, it's an opportunity to play with older girls who have a little more experience," Rob said.  "She's been playing with U.S. Kids, which is of her age group, but this gives her the opportunity to be around older golfers."
The chance to tee off and chip alongside stronger competition may not only be one of opportunity for the young Heflin, it may be borne out necessity, according to her father. "The reality is that with girls' golf, there are very few opportunities in this area," he said. "There are very few girl golfers of Rylie's age in this area, and often, we have to travel to regional tournaments in order to give her the chance to compete against other girls her age." 
In ten years, Heflin envisions herself playing at the collegiate level, in preparation for someday making the LPGA Tour.  
"This tournament was one of the rare opportunities that can allow her to play a course she's comfortable with," Rob said. "We felt it was an ideal way for her to take another step toward her goals."