Annual meeting focuses on Historic Kennett Square's accomplishments

03/19/2014 02:19PM, Published by ACL, Categories:
---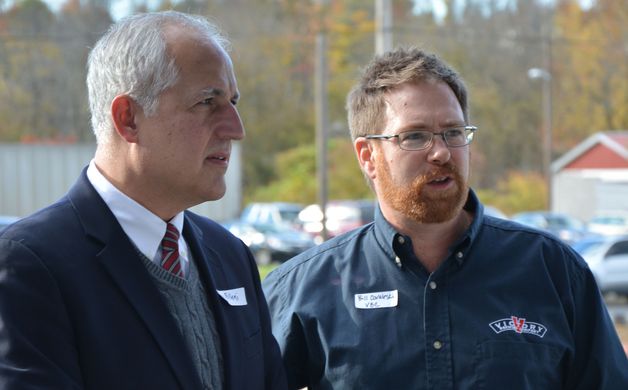 Victory Brewing founder Bill Covaleski and State Sen. Dominic Pileggi at the Victory groundbreaking in Kennett Square late last year.
---
---
By Steven Hoffman
Staff Writer
This year, when Historic Kennett Square officials convened for the annual meeting to report on last year's accomplishments and the coming year's goals, they opted to hold the meeting at the Market at Liberty Place.
"It's a perfect opportunity to show off what a unique venue this is," explained Mary Hutchins, the executive director of Historic Kennett Square.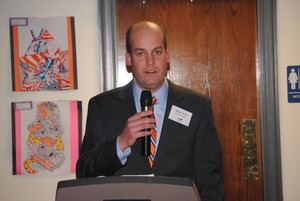 The arrival of Market at Liberty Place, which includes a George & Sons Seafood Market, the State Street Pizza & Grill, Nourish, Coffee Shop, Rick's Steaks, Yo'R So Sweet, Paradocx Vineyards, the Kennett Square Arts Alliance, Terra Foods, and Punk'd Pineapple, was certainly one of the highlights for 2013.
Overall, the year was distinguished by its remarkable stability in the downtown district. Only a few stores closed during the previous 12 months, and the vacancies were quickly filled.
It took a great deal of work over many years to create this kind of stability. 
Hutchins, who has held the position of executive director of Historic Kennett Square for the last 13 years, talked about the slow, gradual improvements that can lead to a town's revitalization.
"Kennett Square's not the same place as when I started 13 years ago," she said, explaining that back then she would step out of her office at lunch time to see a lot of empty storefronts and mostly empty streets. Today, there is a collection of diverse shops and restaurants in the commercial district, and Kennett Square is frequently held up as an example of a thriving, vibrant small town that other communities can emulate.
"It's amazing how the town keeps getting bigger and better," said Geoff Bosley. "It's a place where people want to be."
Bosley is the vice president of LGB Properties, the developer behind the Market at Liberty Place. He is also a Kennett Square Borough Council member. He has seen firsthand how well Historic Kennett Square, the business owners in town, and Kennett Square's government officials have worked with each other during the recent renaissance.
"There is a real sense of togetherness and cooperation," he said.
Everyone agreed that this spirit of cooperation is an essential component to the town's success.
Ginger Meadows, the past president of Historic Kennett Square, offered an overview of the accomplishments for 2013. She noted that 11 new businesses opened during the year—a majority of those are a part of the Market at Liberty Place. Vignette, Taste of Puebla, Philter, and Kennett Design were also among the other new arrivals. More than $1 million of economic development was added during the course of the year.
Meadows lauded Hutchins for leading the revitalization efforts.
"Mary never ceases to amaze me. She works so hard for our town," said Meadows.
Bosley added that, "Mary is outstanding to work with and has a great interest in seeing the town progress."
2014 is expected to another good year for the town, and is already off to a strong start. The year's first big event organized by Historic Kennett Square, the Winterfest, was a sellout and attracted about 1,000 people to town in February.
The First Friday events and the Kennett Square Farmers Market are now mature events that have developed loyal followings. The First Friday events capitalize on Kennett Square's strong arts community. The Farmers Market is one of Hutchins' personal favorites because of the way that it has grown over the years. 
The Kennett Brewfest is the largest fundraiser for Historic Kennett Square each year, and is the event that other Main Street programs ask about the most.
Planning these events requires a great deal of work by Historic Kennett Square's small staff, but these events are important because the money that is raised can then be used for the other activities that the organization plans throughout the year.
"It brings in money that we give right back to the community," Hutchins said. "The fundraising events are important for that, but also because they bring visitors to town."
Looking ahead to 2014, the arrival of Victory Brewing Company will be one of the highlights. Victory Brewing is opening a brewpub on the bottom floor of Magnolia Place.
Bill Covaleski, one of the founders of Victory Brewing, was the guest speaker at Historic Kennett Square's annual meeting. He talked about how welcoming the borough has been to the growing company, which has a long and impressive history in Downingtown. He said that Kennett Square is a hub of southern Chester County, and had all the qualities that Victory Brewing was looking for in a community partner.
He pledged that Victory Brewing will return the borough's warm reception by having the same kind of presence in Kennett Square that it has had in Downingtown since 1996.
"When we enter a community, we want to give back to that community," Covaleski said. "A brewery can be a supportive partner. We appreciate the opportunity to integrate into the community."
Historic Kennett Square welcomed some new board members and voted on new officers for the coming year. Tom Sausen of Abbott Labs was nominated and approved for a three-year term on the board. He will chair the Economic Development Committee. Anita D' Amico, Dan Gannon, Mike Pia, and David Myers were all reappointed to three-year terms.
Myers was elected as the new president, while Nicole Grebloskie will serve as vice president. Brant Kucera, who is also Kennett Square's borough manager, will serve as Historic Kennett Square's treasurer.
Myers is typical of all of the people who offer their time and talents to serve on the Historic Kennett Square board in that he is proud of Kennett Square and is willing to put a lot of effort into continuing its success. He grew up in the borough, works in the borough, and still lives in town.
"I went to Kennett High School. I want my children to go to Kennett High School," he said proudly.
Myers' mother, Susan, was one of the founders of Historic Kennett Square, and he is proud to continue the family tradition.
Hutchins said that she's most proud of the way that the business district has increased its foot traffic over the years, and the way that the business district itself has expanded. When she started as executive director, the commercial district was only two blocks long. With the arrival of Victory Brewing, there is an opportunity to extend the business district in that direction.
The men and women in attendance at the annual meeting understand what it takes to keep the business district healthy and vibrant and are willing to continue the hard work that has resulted in so much success. It's an important job, but it's also a job without end.
 "It's really been a process," Hutchins said. "You take a step forward and then you take a step back. Then you take another step forward. You can never be finished. There's never a time to say, 'well, we revitalized Kennett Square. Now, we're finished.'"
---
---
---
historic kennett square market at liberty place state street pizza & grill rick's steaks yo'r so sweet kennett square arts alliance punk'd pineapple george & sons seafood market nourish coffee shop paradocx vineyards terra foods winterfest
---