Victory celebrates official launch of its Parkesburg brewery
03/05/2014 03:58PM ● By ACL
Victory Brewing Company founders Bill Covalski and Ron Barchet give a tour of the new brewing facility in Parkesburg.
By Richard L. Gaw
Staff Writer
Moonglow Weizenbock, Baltic Thunder and Golden Monkey now have a new home.
On Feb. 27, welcoming 30 members of the local media, Victory Brewing Company proudly showed off their highly anticipated 140,000-square-foot brewery in Parkesburg. The site of the facility was chosen because of its similarities to Victory's home in Downingtown, 20 minutes away. Both share the headwaters of the east and west branches of the Brandywine Creek.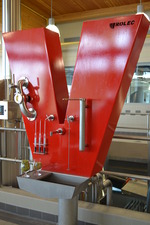 The Parkesburg brewery is equipped with top-of-the-line brewing technology and tools, including a German-built ROLEC brewhouse with production capacity of up to 200 barrels per batch, as well as a proprietary hop separator called the HopVIC, and a hard-piped fermentation cellar featuring 16 1,000-barrel fermenters. At full capacity, the brewery will able to turn out 225,000 barrels a year – more than doubling the current capability in Downingtown.
"Another one of the really exciting new features in this brewery is the state-of–the-art biological acidification system, which will allow our brewers to naturally optimize pH values throughout the brewing process, yielding cleaner and fresher tasting beer," explained Ron Barchet, Victory's CEO and co-founder/brewmaster.
"In the last two years, we spent a lot of time trying to figure out what our plan would be, and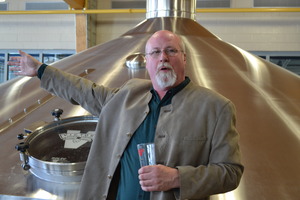 whether we could stretch what we were doing in Downingtown," said Adam Bartles, director of brewery operations. "We looked at every option and stood fast to our commitment to100 percent quality, instead of watering down our expansion. In 2012, we hit the ceiling and by 2013, we were operating in Downingtown 24 hours a day, every day of the year and even on the holidays, making as much beer as we possibly could. This new facility allows us to have so much more potential."
"Environmental impact and water quality were major considerations for this expansion," said Bill Covaleski, Victory's president and co-founder/brewmaster. "Nearly eight months of water-quality research found that the mineral composition of the west branch water is nearly identical to the east branch. Now the beer is flowing and we couldn't be more pleased with the result."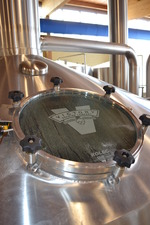 Soon, the public will be able to peek inside the operations of Victory's expansion. Beginning on April 5, tours of the Parkesburg facility will be offered on Saturdays from 11 a.m. to 2:30 p.m., and 3 to 6:30 p.m. The tours will depart from Victory's Downingtown brewpub, and upon arrival, visitors will get a welcome beer in the catering hall, followed by a guided tour of the brewery from the production floor. Then everyone will meet back in the hall to enjoy a food and beer pairing. 
Each session is limited to 40 people and all tour guests must be 21 years or older to participate. Tickets must be purchased in advance and will be available on Victory's website beginning on March 3.
Construction will continue on the 10,000 square feet of space where a full-service brewpub and beer garden are scheduled to near completion by the start of 2015. In the meantime, the facility will be available for private catered events.
"We share the anticipation our fans have expressed over having the opportunity to enjoy the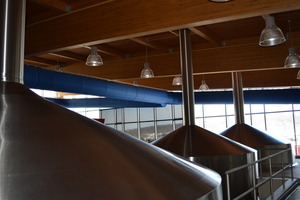 brewpub and tour experience in Parkesburg," Barchet said. "While there are still a number of hurdles to cross until that can happen entirely, we're excited to offer an enjoyable package option that provides a behind-the-scenes look at the brewery, as well as food and beer component in the meantime."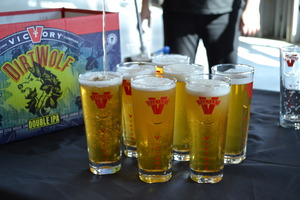 "Our idea is to take this company globally," Bartles said. "I think we're proud enough of what we do that we want everyone to be a part of it, wherever people are looking for good beer. We also have maintained our commitment to Chester County.  In this expansion, we could have gone anywhere, but we're proud of being from Chester County. 
"We're proud of the Brandywine River being our water source," Bartles added. "So while I see us trying to get our beer out to as many new places as we can, our home will always be here."