U-CF board approves contract for Sanville

02/26/2014 02:38PM, Published by ACL, Categories: In Print, Schools
---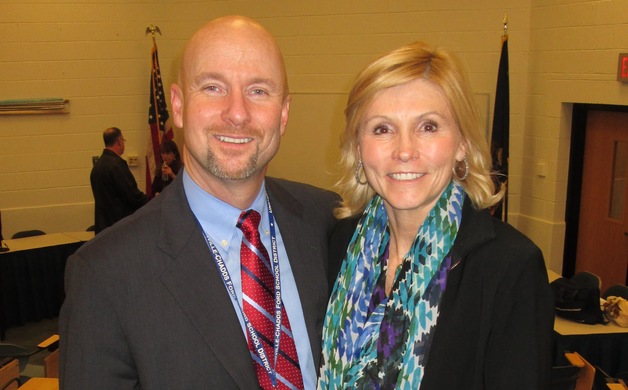 Unionville-Chadds Ford School District superintendent John Sanville, with his wife Debbie, after the school board voted to approve his new four-year contract on Feb. 18.
---
---
By John Chambless
Staff Writer
There was plenty of drama at the Feb. 18 meeting of the Unionville-Chadds Ford School Board, with several residents challenging the board and administration during the public comment period, and a vote to approve a renewed contract for superintendent John Sanville that was not unanimous.
The meeting, held at Unionville High School, opened with principal Paula Massanari noting with pride that 12 of the school's seniors have been named National Merit Finalists. The students scored in the top on percent of all PSAT test takers in the United States. Massanari listed thir names:  Ari Bleemer, Kate Dietrich-Manion, Victoria Francis, Amy Gottsegen, Edward Jing, Erin Kutz, Angela Pan, Barrett Powell, Edward Pyun, Ria Rathi, Jason Shao, and Alyssa Trigg.
Mark Stookey, a resident of Chadds Ford Township, then addressed the board about their attitude toward Bruce Yelton of Pocopson Township, who has written letters to local media outlets calling for the dismissal of Sanville as superintendent. Yelton, who was in the audience at the meeting, did not speak.
"I don't really know Mr. Yelton," Stookey told the board, "but I do know that he's a former township supervisor and attends more school board meetings than perhaps any other member of the community. Over the years, he's had numerous ideas about how to address various issues. I haven't always agreed with his proposals, but always considered him to be motivated solely by the best interests of the district, our students and the taxpayers. Now, though, Yelton expresses unpopular views, and board members respond by calling him irresponsible, and his ideas 'insulting to the intelligence.' In essence, stupid. ... I urge the board to set the example for civil discourse. Deal with issues, state your interpretations, but without impuning others."
Board member Keith Knauss, who had strongly criticized Yelton's letter at a previous board meeting, defended himself to Stookey, saying, "I'm a fairly straight shooter. People know where I stand. Sometimes we like to criticize ideas. I don't like to criticize people. I hope my criticism didn't come off as attacks. It wasn't meant that way. But I do criticize ideas if I feel they're wrong."
Laster, a vote on reducing the amount of credit given to students who use the Learning Support Resource Room at Unionville High School hit an unprecedented roadblock. The Resource Room is used by special-education students to help them in subjects they are struggling with, and has traditionally been worth one credit. After questions arose in recent months about whether to give a full credit for a study option that was not really a full-fledged course, the administration recommended reducing the credit to .17 for using the Resource Room. The matter was the focus of a long debate at the board's Feb. 10 work session.
When it came to a formal vote on Feb. 18, Knauss read the motion and there was no second from the board, effectively killing the issue. Toward the end of the meeting, board members addressed the lack of support. Noting that the recommendation had come from staff members and administrators, Knauss commented that, "I think this is the first time that the board has rejected a recommendation by experts on curriculum."
Board member Kathleen Do said she didn't support the reduction in credit because, "in talking with board members and others who have had children in the program, reducing the amount of credit would have created a deterrent for students to take this program. Students who need the Resource Room for all four years of high school should not be penalized. I think that was how it was being perceived by parents who have children in that program. I felt that I could not support the motion."
Board member Steve Simonson said the credit reduction suggestion "was brought up for reasons that didn't seem that important. Maybe the best thing to do was let it die like it did."
Board member Gregg Lindner added, "I was happy with the result that we had this evening, and I hope that we've seen the last of it." 
Ken Batchelor, the assistant to the superintendent who had brought the idea to the board at the work session, smiled and said, "Don't worry. I second that."
The board approved the district's preliminary budget for 2014-2015, with total appropriations of $76,057,213. "This is a preliminary budget," Knauss told the audience. "The real work will be done on the final budget between now and June. What this vote does is signal to the community that we will not be raising taxes above the Act 1 Index plus exceptions, which would have required a referendum."
Do added, "While this budget was talking about an increase in the amount of about 4 percent, this is very preliminary, and we all anticipate that the final budget will look very different."
The board also unanimously approved submitting the Retirement Contribution Exception in the amount of $625,195, and the Special Education Exception in the amount of $802,399 with the Pennsylvania Department of Education. 
Board member Eileen Bushelow clarified the vote, saying, "This is the maximum amount we can apply for. But just because we apply for it does not mean that we'll use it."
In voting on whether to renew Sanville's contract for four more years, the board voted unanimously in favor of the appointment. A vote on the details of his contract, however, drew one dissenting vote, from Bushelow. "I agree that the superintendent's contract is not a terrible agreement, but I am not comfortable with some of the terms," she said. "Therefore, I cannot support it. My vote in no way reflects how I feel about Dr. Sanville. I wholeheartedly believe that he is the best leader for Unionville-Chadds Ford."
Knauss noted that Sanville was hired three years ago at a substantially lower salary than his predecessor because he was a novice in his position. "John's performance over the last three years has been excellent, and he deserves a raise that recognizes his excellent performance," Knauss said. "Even with this raise, he will only be paid seventh out of 12 Chester County superintendents. 
"One of the questions that may be asked will be how can we give Dr. Sanville a 10 percent raise next year, which will leave less money for other employees' raises which, in this economy, will be modest," Knauss continued. "The answer is that, three years ago, we hired Dr. Sanville at a much lower salary, compared to the previous superintendent, Mrs. Parker. As a result, over the last three years, we've had more money going to employee raises. It all evens out."
The vote on the employment agreement passed, 7-1. In an e-mail to the Chester County Press, Bushelow wrote that "I was disappointed we didn't pursue a contract that included increases and/or a bonus that would be based on district goals and/or performance.  I also was not comfortable with the early termination clause."
The contract calls for a salary of $210,000, increasing annually at the rate of the Act 1 Index; an increase in paid vacation days from 25 to 30 days; and dollar-for-dollar matching payments towards a retirement plan, not to exceed $700 per month. The contract will run f