OAHS presents 'Joseph and the Amazing Technicolor Dreamcoat'
02/25/2014 05:09PM ● By ACL
Father Jacob (Tyler Milligan, front center) is surrounded by Joseph's infamous siblings played by (front from left) Mari-Ann Talbot, John Coterwas, Maddie Sapp and Ali Miller; and (rear from left) Todd Jackson, Kaleigh Marr, Jacob Abrams, Maddie Hamilton, Robbie Miller, Matthew Terry and Steven Carbonara.
Oxford Area High School will take a trip to ancient Egypt by way of the disco-era 1970s when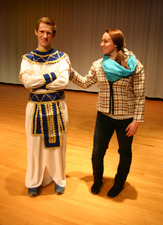 the drama department presents Tim Rice and Andrew Lloyd Webber's classic musical "Joseph and the Amazing Technicolor Dreamcoat" on March 7 and 8 at 7 p.m., and March 9 at 2 p.m. in the auditorium of the school(705 Waterway Rd., East Nottingham).
Tickets are $12 for adults and $8 for students, children and groups of over 20.
The first Rice-Webber musical to be presented publicly, "Technicolor Dreamcoat" is based on the Coat of Many Colors story of Joseph from the Bible's Book of Genesis. The production contains minimal spoken dialogue, and is mostly singing and dancing.
For this production, the drama department is launching a new online ticket website at OxfordTheater.wikispaces.com. Tickets may also be purchased by phone at 484-365-6615 with special seating requests accommodated.