Ways for families to beat the post-holiday blues
12/26/2013 11:02AM ● By ACL
An indoor carousel is a favorite destination at Please Touch Museum.
The holidays are over, the toys have been opened, and the long stretch of cold weather ahead may have you contemplating the upcoming cabin fever. Fortunately, if you have bored young kids, there are dozens of ways to have fun this winter, whether you make it a day trip or a weekend in the big city. Here are some ideas:
Historical Sites & Attractions:
Wannabe sailors can spend the night in the nation's most decorated battleship, the Battleship New Jersey, take tours of the officers' and crew's mess halls, communications center and high-tech command center. 62 Battleship Place, Camden, (856) 966-1652, battleshipnewjersey.org. 
America's most famous flag maker greets guests in her interactive 18th-century upholstery shop at the Betsy Ross House. Visitors learn about Betsy's life and legend from the lady herself.  239 Arch Street, (215) 686-1252, betsyrosshouse.org.
Penny-pinchers and spendthrifts alike cash in on the fun at the hands-on "Money in Motion" exhibition at the Federal Reserve Bank, featuring money games that invite visitors to "Match Wits with Ben." They can also examine an impressive collection of old and rare currency. 6th & Arch Streets, (866) 574-3727, philadelphiafed.org.
The Liberty Bell Center, Independence Hall, Congress Hall, the New Hall Military Museum, Franklin Court, Bishop White House and the Declaration House are just some of the buildings that make up Independence National Historical Parkin Historic Philadelphia. (215) 965-2305, nps.gov/inde.
Liberty 360 surrounds visitors as they take a 3-D, 360-degree journey, led by none other than Benjamin Franklin, to discover our nation's symbols of freedom. Inside the Historic Philadelphia Center's PECO Theater,the groundbreaking, 15-minute indoor show uses the most modern technology of its kind to spotlight the most treasured American value—liberty. 6th & Chestnut Streets, (215) 629-4026, historicphiladelphia.org.
The National Constitution Center is America's first and only museum dedicated to the U.S. Constitution. Highlights include interactive exhibits; the powerful, multimedia "Freedom Rising" performance; Signers' Hall, filled with life-sized statues of the signers of the U.S. Constitution; and nationally touring exhibitions. 525 Arch Street, (215) 409-6700, constitutioncenter.org. 
Visitors to Valley Forge National Historical Park's3,600 acres learn about the Continental Army's intolerable winter encampment of 1777-1778. Highlights include more than 30 miles of multi-use trails and historic structures, including Washington's Headquarters, replica soldiers' huts, monuments, statues and the Washington Memorial Chapel. Route 23 & N. Gulph Road, Valley Forge, (610) 783-1099, nps.gov/vafo.
Museums:
Highlights at The Academy of Natural Sciencesof Drexel University, the oldest natural history museum in the Americas, include Dinosaur Hall, with a fossil preparation lab and hands-on fossil dig site; live butterflies in a tropical garden; a children's hands-on nature center with live animals; and historic dioramas featuring animals from around the world. 1900 Benjamin Franklin Parkway, (215) 299-1000, ansp.org.
At The African American Museum Philadelphia, discover a fresh and bold look at the stories of African-Americans through the innovative use of technology, photographs, videos and artifacts on display in the "Audacious Freedom" exhibition. 701 Arch Street, (215) 574-0380, aampmuseum.org.
The American Helicopter Museum & Education Center's collection includes more than 35 helicopters, autogiros and convertiplanes – eight of which are fully accessible for hands-on experiences. A kids' learning area gives children under six the chance to play with puzzles, games and other aviation-related toys. 1220 American Boulevard, West Chester, (610) 436-9600, americanhelicopter.museum. 
The Bucks County Children's Museum combines hands-on learning with fun, and inexpensive admission to boot. Kids can play their way through six interactive exhibits, many of which offer insight into Bucks County's history. Play area themes include: Town Square, Factory Works, Artifact Dig, Covered Bridges, Tree House and Hot Air Balloon Ride. 500 Union Square, New Hope, (215) 693-1290, buckskids.org.
Future firefighters get a head start at Fireman's Hall Museum, a restored 1902 firehouse that houses some of the nation's earliest firefighting equipment, including hand, steam and motor fire engines, as well as a 9/11 exhibit and an interactive kiosk that teaches kids about 9-1-1 emergency services. Visitors can try on fire coats and boots, man a bucket brigade and learn fire prevention tips. 147 N. 2nd Street, (215) 923-1438, firemanshallmuseum.org.
The Franklin Institute, the region's premier science museum, features a full city block of kid-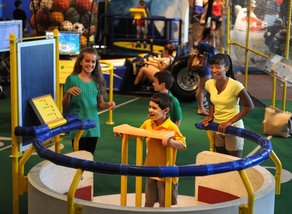 friendly exhibitions, such as the walk-through Giant Heart, Space Command, Sports Challenge, Electricity and Changing Earth. It's also home to the Tuttleman IMAX Theater, the Fels Planetarium and a 3-D theater. 222 N. 20th Street, (215) 448-1200, fi.edu.
Sundays are a big day for families at the Philadelphia Museum of Artthanks to special tours created just for them, as well as drawing and craft activities for children as young as newborns. The museum also offers themed audio guides for children every day of the year and special family programs during the summer months. Admission is free for kids 12 and under. 26th Street & Benjamin Franklin Parkway, (215) 763-8100, philamuseum.org. 
Housed in Fairmount Park's Memorial Hall, the kid-centric Please Touch Museum six 
interactive exhibit zones, plus a fully restored 100-year-old carousel. Youngsters can play and pretend amid Alice's Wonderland, River Adventures and other hands-on fun. 4231 Avenue of the Republic, (215) 581-3181, pleasetouchmuseum.org.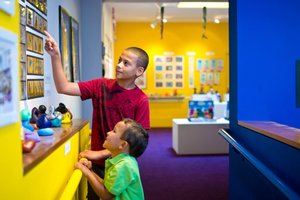 In the Chestnut Hill section of Philadelphia, the Woodmere Art Museumtells the story of Philadelphia's art and artists. The 19th-century stone Victorian mansion sits on six acres of sprawling manicured lawns that include a treasure trove of sculptures fashioned by Philadelphia-area artists. New on the grounds is a Children's Garden. 9201 Germantown Avenue, (215) 247-0476, woodmereartmuseum.org.
Animals Above & Below The Sea:
The only aquarium featuring hippos, Adventure Aquariumis the fifth-largest aquarium in the country, featuring more than 8,500 animals. Adventurous types can pet or feed stingrays or touch shrimp, lobster, starfish, crabs, sharks and more. After checking out exhibits such as Penguin Island and the 760,000-gallon Ocean Realm, guests can walk through a suspended Shark Tunnel, see one of many live offerings or take in a 4-D Theater show. There's also KidZone, a play space created especially for kids 6 and under. 1 Aquarium Drive, Camden, NJ, (856) 365-3300, adventureaquarium.com. 
Opened in 1924, the 16-acre Elmwood Park Zooshowcases an animal collection of nearly 300 species indigenous to the Americas. Many of the animals – the American bison, peregrine falcon, bald eagle, timber wolf and American alligator – represent significant wildlife conservation success stories. The zoo also includes a spacious playground featuring interactive animal sculptures. 1661 Harding Boulevard, Norristown, (610) 277-3825, elmwoodparkzoo.org.
Philadelphia's only all-bug museum and the largest insect museum in the northeast is the Insectarium,exhibiting thousands of live and mounted insects from Africa, Tanzania and other exotic locations, as well as interactive displays and a movie room. 8046 Frankford Avenue, (215) 335-9500, myinsectarium.com. 
Nearly 1,300 animals—many rare and endangered—call the America's first zoo home. In addition to leading the way in conservation efforts, the Philadelphia Zoofeatures the McNeil Avian Center, First Niagara Big Cat Falls, the PECO Private Reserve and seasonal family-friendly events. 3400 W. Girard Avenue, (215) 243-1100, philadelphiazoo.org.
Gardens, Tours & A Whole Lot More:
During the Herr's Snack Factory Tour, children see how their favorite snacks are made, learn why gravity is important to making a great potato chip and discover why good cheese curls need a lot of hot air. Route 272 & Herr Drive, Nottingham, (610) 932-6400, herrs.com. 
Wee ones scurry, crawl and climb through the mazes and fountains in the Bee-aMazed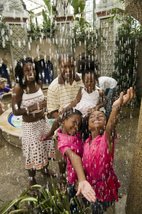 Children's Garden, a kid-sized outdoor experience at Longwood Gardens. Indoors, they can hide in the Bamboo Maze, scamper into the Secret Room and dodge the Drooling Dragon, all part of the Indoor Children's Garden in the Conservatory. U.S. Route 1, Kennett Square, (610) 388-1000, longwoodgardens.org. 
At Giggleberry Fair in Peddler's Village, kids can ride a restored 1922 Philadelphia Toboggan Company Grand Carousel; conquer Giggleberry Mountain, the area's largest indoor obstacle course; get active in Giggles Discovers, an interactive exploration environment; play in the Game Room; and enjoy a snack in the Painted Pony Café. Routes 202 & 263, Lahaska, (215) 794-4000, peddlersvillage.com. 
Hotels:
Those who want to stay in the middle of the action can check into the DoubleTree by Hilton Philadelphia Center City,located on the Avenue of the Arts near performing arts venues, great restaurants and fashionable shops. Guests are greeted with signature chocolate chip cookies, and families can spend some time at the indoor pool on the fifth-floor deck, overlooking the action below on Broad Street. 237 S. Broad Street, (215) 893-1600, philadelphia.doubletree.com.
Within walking distance of kid-oriented museums, the Four Seasons Hotel Philadelphiaoffers toys and complimentary baby and toddler essentials – a bedtime snack and the all-important diaper genie. 1 Logan Square, (215) 963-1500, fourseasons.com/philadelphia. 
After visiting the historic sites that are just steps away, kids can continue their fun-filled day in the Nintendo Game Cube at the Holiday Inn Philadelphia - Historic District.400 Arch Street, (215) 923-8660, holidayinn.com. 
Loews Philadelphia Hotel offers special kid-friendly menus, Fisher-Price welcome gifts and iTune downloads for teens, and family members of all ages can enjoy the indoor pool. And if the family pet comes along, the Loews Loves Pets program keeps Fido happy. Children under 18 stay for free. 1200 Market Street, (215) 627-1200, loewshotels.com.
Kids get a free backpack filled with goodies when they check in at the Omni Hotel at Independence Park,and they receive milk and cookies in their guest room on the first night. Children can also borrow a rolling backpack packed with toys, books and games, or keep occupied with activities on Omni's new kid-centric website omnikidsrule.com. 401 Chestnut Street, (215) 925-0000, omnihotels.com.
At The Rittenhouse Hotel,kids can choose a gift from the Rittenhouse Treasure Chest, and they get bathrobes and slippers at turn-down, along with a copy of "Goodnight Philadelphia." Pre-teens and teens receive a Rittenhouse Media Ticket, good for one complimentary in-room movie and a bag of popcorn. In addition, families can ask the concierge about discount tickets for the Philadelphia Zoo, Please Touch Museum and Adventure Aquarium. 210 W. Rittenhouse Square, (215) 546-9000, rittenhousehotel.com.
Restaurants & Sweets:
Campo's, a casual eatery in Old City, is known for making some of the best Philly sandwiches, including hoagies, cheesesteaks and homemade meatball and pork sandwiches. Plus, it's just blocks away from the city's most famous historic attractions, and there are additional Campo's locations inside Citizens Bank Park (home of the Phillies) and the Wells Fargo Center (home of the 76ers and Flyers). 214 Market Street, (215) 923-1000, camposdeli.com. 
Established in 1773, City Tavernis a Colonial tavern featuring an award-winning children's menu, high chairs and booster seats, as well as costumed servers. 138 S. 2nd Street, (215) 413-1443, citytavern.com. 
In addition to more than 250 video games and interactive experiences, Dave & Buster'shouses a restaurant featuring a kid's menu, high chairs and booster seats. 325 N. Columbus Boulevard, (215) 413-1951, daveandbusters.com. 
Earl's Buck's County uses ingredients from local farms to bring diners healthy and delicious options. The new children's menu includes an Etch A Sketch for kids to doodle on, a beverage, entree, plus dessert. Routes 202 & 263, Lahaska, (215) 794-4000, peddlersvillage.com. 
Those who have a taste for sweets and history can stop by The Franklin Fountain, an old-fashioned ice-cream saloon serving up handmade ice-cream, splits, shakes, sundaes, fountain sodas, pies, cookies and more. 116 Market Street, (215) 627-1899, franklinfountain.com. 
Cool rock-and-roll memorabilia and music are dining hallmarks at the Hard Rock Café. A children's menu, activities and high chairs are available for younger guests. 12th & Market Streets, (215) 238-1000, hardrock.com. 
Tasty Philadelphia cheesesteaks are served at Jim's Steaks, a popular indoor eatery on the always-lively South Street. 400 South Street, (215) 928-1911, jimssteaks.com.
Jimmy John's Pipin' Hot Restaurant is a regional landmark famous for its old-fashioned hot dogs and electric train displays. 1507 Wilmington Pike, West Chester, (610) 459-3083, jimmyjohns1940.com. 
With a setting right out of The Brady Bunch, Jones serves up classic comfort foods such as macaroni and cheese and meatloaf. 700 Chestnut Street, (215) 223-5663, jones-restaurant.com.
Maggiano's Little Italy brings authentic, Italian cuisine to Philadelphia with classic family-style dishes in an old-world setting. 1201 Filbert Street, (215) 567-2020, maggianos.com. 
Pizza and kids are always a winning combination, which is exactly why families can't go wrong at Pizzeria Stella,a just-off South Street restaurant offering gourmet pizzas, pastas and salads, along with house-made gelato that boasts a secret family recipe. Don't worry, there are simple selections perfect for the youngest members of the group. 2nd & Lombard Street, (215) 320-8000, pizzeriastella.net. 
Fresh produce and prepared foods ranging from cheesesteaks to cannolis are up for grabs throughout the historic Reading Terminal Market. Annual events and festivals are fun for food lovers of all ages. 12th & Arch Streets, (215) 922-2317, readingterminalmarket.org.
Shane Confectionery is America's oldest candy store, which was built in 1863 and restored to its 1911 splendor with its carved cabinetry and glass cases. Here, clerks dressed in long dresses or bowties serve house-made fresh chocolates and confections using early 20th-century machinery. Customers can watch their planned pleasures be bagged and weighed on antique scales or choose chocolates by the piece. 110 Market Street, (215) 922-1048, shanecandies.com.
For more information, visit visitphilly.com or uwishunu.com. Or, call the Independence Visitor Center, located in Historic Philadelphia, at (800) 537-7676.