County Commissioners present agricultural awards

12/24/2013 10:29AM, Published by ACL, Categories:
---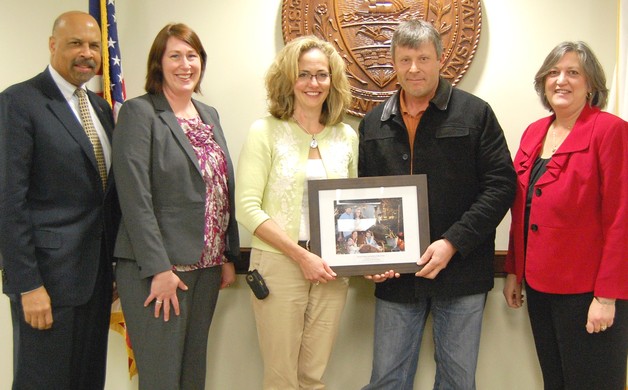 Farmer of the Year awards were recently presented to Thomas and Barbara Schaer of Medowset Farm and Apiary in Landenberg.
---
---
The Chester County Board of Commissioners, along with the Agricultural Development Council, presented three agricultural awards at last week's commissioners meeting. Farmer of the Year awards were presented to Peter Flynn of Pete's Produce in Westtown, and to Thomas and Barbara Schaer of Medowset Farm and Apiary in Landenberg. The "Distinguished Agricultural Service" award went to Daniel Miller, current president of Chester Delaware Farm Bureau and Chesapeake Bay Resource Conservationist with the Chester County Conservation District. The Chester County Farmer of the Year Award is presented to deserving individuals or families that exemplify outstanding farm practices, that have an innovative operation and keen business sense, and that run a well-maintained farm. Pete Flynn's retail farm market has been a successful part of the Westtown community for more than 20 years. He leases 170 acres from the Westtown School and grows a large variety of produce. He serves on the executive board of the Chester County Food Bank and is one of the original farmers involved in the Chester County Gleaning program. The Schaers run a 30-acre sheep dairy farm with a focus on producing aged cheeses. They also produce honey, lamb, wool, eggs and herbs. There is a farm store on site, and the family also sells products to area restaurants. They are committed to sustainable farming practices. The Distinguished Agricultural Service award goes to an individual who has made significant contributions to, and provided exceptional service for, the Chester County agricultural community. In addition to his role as president of the Farm Bureau and as an employee with the Conservation District, Daniel Miller is involved with many initiatives and organizations that promote agriculture in Chester County. For more information, visit www.chesco.org/agriculture .
---
---
---
farm landenberg chester county board of commissioners agricultural development council farmer of the year awards medowset farm and apiary chester delaware farm bureau chesapeake bay resource conservationist chester county conservation district chester county farmer of the year award westtown petes produce
---