OAHS students and staff earn their wings with angel tree
12/24/2013 09:45AM, Published by ACL, Categories: In Print, Schools Holiday Season
---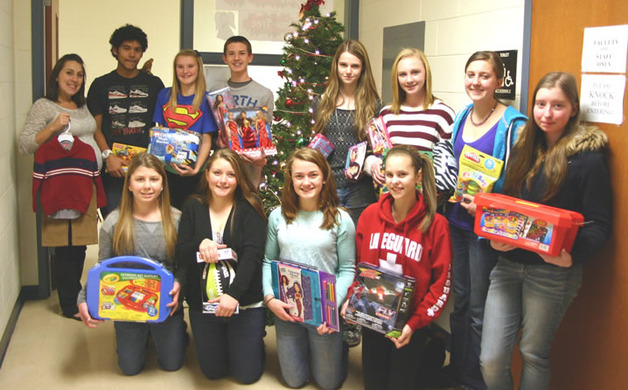 ---
---
For the second year in a row, Oxford Area High School students and staff brought joy to many local families this holiday season by contributing to an Angel Tree sponsored by the social studies department through the Salvation Army of Chester County. Each of the high school's social studies classrooms sponsored an "angel," representing a child in the Oxford community who would otherwise go without during the holidays. Additional angels were adopted by other classes, staff members, and families. Gifts were collected for a total of 31 children according to clothing sizes, specific needs, and wishes for Christmas. Pictured (front, from left) are students Alexandria Landgrebe, Erin Anderson, Kacie Steele and Nina Kates; standing (from left) are social studies teacher Stephanie Loughran and students Alex Romero, Rebecca Hayes, John Winters, Sydney Hildebrandt, Sarah Frick, Kayla Weaver and Gina Burnette.
---
---
---
oxford area high school oxford christmas holiday season angel tree salvation army of chester county
---
You might also like
Uncle Irv for the week of August 20, 2014.
Editorial for the week of August 20, 2014.
---