Tourism Information Center displays quilt with storied history
12/18/2013 10:50AM ● By ACL
A central panel shows the building when it was a Quaker meetinghouse.
The Longwood Progressive Meeting, built in 1855, was the meeting place for Quakers who were activists in the Underground Railroad and other social causes of the day. Through the years, renowned leaders of the abolitionist movement movement spoke at Longwood Progressive Meeting. Among them were Sojourner Truth, Susan B. Anthony and Frederick Douglass.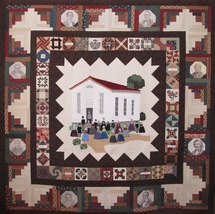 In 1989, the Chester County Conference and Visitors Bureau (CCCVB) took over the building for use as a tourism information center. In 2012, after a renovation preserving its historic nature, the Visitors Bureau administrative staff relocated into the building.
In the fall of 2013, several quilts depicting scenes from Longwood Gardens, came to be housed at the center. CCCVB executive director Blair Mahoney then commissioned a quilt to celebrate the building's rich history, from the same artisans who created the Longwood quilts, the Brandywine Circle Quilters.
After almost a year, the group has delivered the finished work of art. The design incorporates authentic quilting block patterns and colors reflecting those of the time.
"The beauty of this quilt has left me speechless," Mahoney said. "To have captured the rich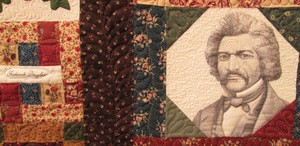 Quaker heritage and Underground Railroad legacy in such a creative way is simply amazing. We are so grateful, and welcome visitors and local residents to come see this beautiful and meaningful masterpiece."
The Brandywine Valley Tourism Information Center is at the gates of Longwood Gardens (300 Greenwood Rd., Kennett Square) and is open daily from 9 a.m. to 5 p.m.