Mathematics and magic
12/18/2013 09:22AM, Published by ACL, Categories: In Print, Schools
---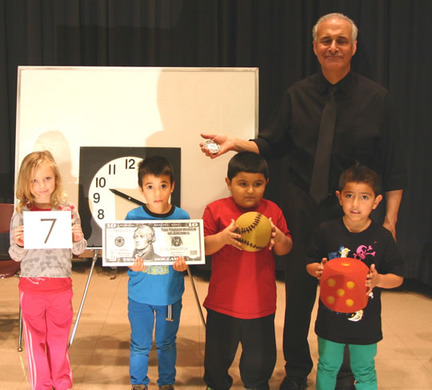 ---
---
Jordan Bank Elementary School kicked off its celebration of American Education Week with a visit by mathematician and magician Craig Collis, of Glenside. A former teacher, Collis has combined his love of mathematics and skills as a professional magician to present fun assemblies at more than 6,000 schools across the country. In his presentation "Math, Magic & Mystery," which is based on state and national standards, Collis used magic tricks to show the kindergartners how math plays an important role in all aspects of their daily lives. Pictured with Collis are his "assistants" (from left) Annabelle Brown, Christian Ochoa, Osvaldo Gomez and Emmanuel Rodriguez-Martinez.
---
---
---
american education week jordan bank elementary school magician
---
You might also like
Uncle Irv for the week of August 20, 2014.
---