Traditional holiday favorites with some new additions at Oxford Country Christmas
12/04/2013 01:11PM ● By ACL
Oxford's businesses are decorated for the Christmas season.
By Steven Hoffman
Staff Writer
No event encapsulates Oxford's small town charm more than the annual Country Christmas celebration. The town will be filled with the sights and sounds of the season on Friday, Dec. 6 with an evening of holiday cheer that is highlighted by a tree-lighting ceremony, strolling carolers, horse-drawn  carriage rides, and the much-anticipated arrival of Santa and Mrs. Claus.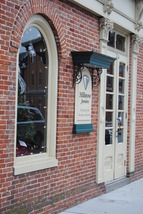 "The Country Christmas event is one that the entire community looks forward to every year," said Sue Cole, the executive director of Oxford Mainstreet, Inc., the organization that plans this and other special events in town. "There is something fun to do for every member of the family."
Santa and Mrs. Claus will be arriving in town on a horse-drawn carriage just in time to join Oxford Mayor Geoff Henry for the tree-lighting ceremony at the corner of Locust Street and South Third Street. Santa and Mrs. Claus will then be available for photos at Oxford Odds & Ends, located at 55 South Third Street.
While Santa and Mrs. Claus will be busy visiting the children inside Oxford Odds & Ends, five of Santa's elves will be strolling around the town, posing for on-the-spot pictures with children. The elves, who are making their first appearance at the Country Christmas celebration, will be handing out candy. Local church choirs will be caroling and performers from several local dance studios will be doing performing holiday numbers.
As in the past, horse-drawn carriage rides around town will be popular with young and old alike. Families will also be lining up for a hayride through town. The carriage rides and hayrides are usually among the most popular attractions at the Country Christmas.
These traditional family-friendly favorites will be enhanced with some new attractions.
"We have an amazing ice-sculpting performance from 5:30 to 7:30," Cole said. "The performance will be by Ice Concepts, Inc. of Hatfield, Pa. A local business, Custom Machine & Design, Inc. is sponsoring the activity."
The ice-sculpting will take place on the lawn at Edward Jones Investments at the intersection of South Third and Locust streets.
Oxford's businesses and restaurants in the downtown will be open late to offer sales and specials to kick off the holiday shopping season. There will be two grand openings for businesses during the evening as Millstone Jewelers and Flickerwood Wine Cellars & Twisted Treats are making their debuts.   
The local Neighborhood Thrift Store has opened a Christmas Shop for the season, and many of the businesses in town will be decorated.
Ten Thousand Villages will be set up at the Oxford Presbyterian Church, offering an exquisite collection of handmade gifts, home décor, musical instruments, jewelry, and personal accessories.
The Oxford Arts Alliance Gallery will host an Artisan Gift Shop featuring hand-created gifts made by local artists.
Cole said that most of the businesses will participate in the Holiday Window Decorating Contest.
A scavenger hunt throughout downtown Oxford will provide the opportunity for children and adults to collect letters that create a Christmas phrase and then enter to win one of four prizes.
A variety of snack foods will be available at concession stands throughout the event.
Oxford's Country Christmas takes place between 5 p.m. and 9 p.m. A section of Third Street from Market Street to Hodgson streets will be closed during the event because of safety considerations.
According to Cole, one of the best aspects of the Country Christmas is that so many friends and neighbors enjoy the event together in Oxford's charming downtown.
"It rings in the holidays while kicking off the holiday shopping season locally," Cole said. "Everyone who attends agrees that it is the sort of event that leaves you with a warm and cozy feeling while enjoying the downtown during a special time of the year." 
***
Portraits with Santa
On Saturday, Dec. 7, Santa will be available for portraits at the Oxford Feed & Lumber from 10 a.m. to 1 p.m. Families and pets are welcome. Oxford Feed & Lumber is located at 112 Railroad Avenue.