La Sicilia and Sacred Heart School students team up to raise money for Signing Time Foundation
11/27/2013 12:38PM ● By ACL
Kindergarten and first-graders raised money for the Signing Time Foundation.
By Steven Hoffman
Staff Writer
More than two dozens students from the Sacred Heart School were at the La Sicilia restaurant in Oxford on Monday morning to celebrate fundraising activities for the Signing Time Foundation.
This is the third year in a row that students from the school have teamed up with the Mascali family, the owners of La Sicilia, on the project.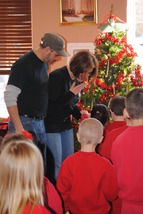 Danielle Mascali said that she and her husband, Victor, were motivated to start organizing fundraisers for the Signing Time Foundation when they learned about the good work that the organization is doing by making sign language fun and accessible to all children. Victor and Danielle have a son, Victor, who was born with severe hearing loss. He is now six and a kindergarten student at the Sacred Heart School. Utilizing sign language is an effective way for him to communicate with his parents and peers.
Mascali explained that Signing Time Foundation was started by Rachel Coleman to bridge the gap between children of all abilities. The non-profit organization utilizes DVDs, books, and television programs to fulfill a vision of the world in which all children can express themselves and be understood.
Danielle said that, as parents of a child with severe hearing loss, they understand the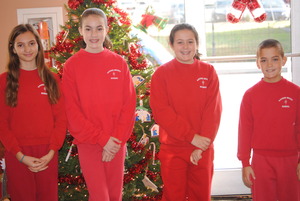 importance of helping children who face a variety of circumstances that can make verbal communication extremely difficult.
"When our son was born, we had no idea where to turn for help," Mascali explained. "There is a frustration level with not being able to communicate with your child."
The Mascalis did the work to research the assistance that was available and they found out about the Signing Time Foundation.
Once Victor and Danielle were able to learn how to use sign language with their son, they noticed a big difference in his demeanor.
"He turned into this bright, cheery child," she said. "It's amazing what it has done for our son."
Any child can benefit from learning simple sign language as a way of communicating with other children who might be disabled.
"That's what I love about this—it's a Foundation for all children," Mascali said of Signing Time.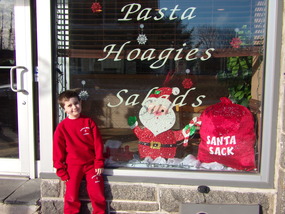 For the Sacred Heart School project, Mascali provided the students with either Nativity scene or snowman ornaments and the students then used their own creativity to prepare them for display on the tree at La Sicilia.
This effort began three years a ago on a very small basis—eight or so students decorated ornaments and collected a few hundred dollars that was passed on to the Signing Time Foundation. The second year, approximately $500 was raised as more students participated.
This year, all the students at the Sacred Heart School were made aware of the project. Student Council members have already raised about $50. Wristbands are being sold to raise more money and students will also be making a $1 donation for the privilege of participating in the school's "dress down" day in December.
Maureen Walsch, a moderator for the Sacred Heart School's Student Council, said that students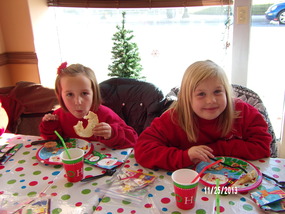 benefit from participating in the fundraising effort because it raises awareness about the Signing Time Foundation and its work making sign language accessible to more children. Participation also taught the students a valuable lesson about the value of helping others.
"The children understand that the donation is to help all children," said Pat DeColli, who also serves as a moderator for the school's Student Council.
Mascali said that the administrators, teachers, and children at Sacred Heart School have all been very supportive of their son and the annual fundraiser.
"They've been amazing," Mascali said. "Our family has been blessed to have this kind of support from the school. I can't say enough about how they've helped us."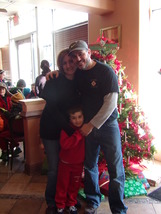 She added that she hopes everyone will stop by La Sicilia to see the Christmas tree that the students have decorated. Many people usually stop by during Oxford's Country Christmas celebration, which takes place this year on Friday, Dec. 6.
The Mascalis will continue to accept donations that will be forwarded to Signing Time. One goal for the future is to have a Signing Time program in the Oxford area.
Now that Victor is 6, he is beginning to understand more about the annual effort to support Signing Time by raising funding and awareness for the cause. Mascali said that her son is always grateful when someone uses sign language to communicate with him. She said that having local students help raise awareness and funds for the Signing Time Foundation makes the family feel very special.
"It just means the world to us," she said.