PennDOT, speakers share progress, ideas at S.A.V.E. event
11/13/2013 02:47PM ● By ACL
Nationally-known urban planner Joe Minicozzi served as the keynote speaker during a Nov. 8 presentation in Kennett Square, in a presentation that introduced ideas designed to potentially calm traffic patterns along the Route 41 corridor.
By Richard L. Gaw
Staff Writer
Investment in a town's transportation infrastructure and its downtown is not only wise environmentally, it increases its' land value, said two nationally-known urban planners at a presentation held Nov. 8 at the Yellow House in Kennett Square.
"The Skinny 2013," sponsored by S.A.V.E. (Safety, Agriculture, Villages and Environment, Inc.), a local community organization that advocates safe and sustainable roads throughout Chester County, brought together more than 100 elected officials, conservation authorities and concerned citizens, in a consortium of ideas specifically wrapped around the future of the Route 41 corridor.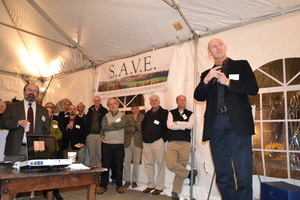 Saying that towns continually choose development patterns that don't reward them financially, keynote speaker Joe Minicozzi, an architect with Urban3, an Asheville, N.C.-based consulting company,  said a town could receive more in tax revenues by investing in downtown areas, as opposed to projects like box stores located on the outskirts of the town. Minicozzi said that he sees cities, towns and villages as a form of DNA, and that towns have been put here hundreds of years ago, and have a trajectory to grow. "If they're not growing, they're dying," he said.
Minicozzi has been involved in the successful revitalization of Asheville, an initiative that has lured several for-profit businesses to locate in downtown neighborhoods. One of the buildings Urban3 renovated was one that the company ultimately converted into a 26-unit apartment complex. After its completion, many of the idea's critics believed that investment in the building was not a wise business decision, but Minicozzi said that the complex  has been 99 percent leased since it was first developed.
Downtown investment enables a town to increase its taxable value, Minicozzi said, who added that because of downtown development in Asheville, the value of the area has grown from $100 million in value 20 years ago, to $10 billion in value now.
Showing a wide land area of Raleigh, N.C. - a tangled, spaghetti strand of highway that snakes its way into the city, Minicozzi said that that area the highway comprises in the city's limits pays no taxes, but development in the downtown area there could potentially grow city, county and school taxes that could net over $100 million over a 50-year period.
"That opportunity is all gone when you just give tax revenue potential over to a highway," Minicozzi said. "Grow your community, but do it in a way that you can increase your community's value. Do the work. Help provide a vision, but work with your community in a way that they know it's all going to work.
"You're all shareholders in this thing called Chester County, so your cash flow is your investment in your community, and how you pay for its services is out of its tax dollars," he said. "Think of citizens as shareholders in two corporations - the town and the county. These small towns and Main Streets actually produce more potent value in taxes, and it's your responsibility to cultivate that. It's more work, but you get more in return."
Ian Lockwood, a Florida-based professional engineer recognized nationally for his work on historic preservation and traffic calming, introduced engineering work he consulted for on Route 50 near Middleburgh, Va., which he called a model for smart-growth highway construction. Originally, based on forecasts by the state's department of transportation, Route 50 was expected to reach traffic over-saturation in 25 years, but thanks to the vision that local conservationists and planners shared with the department, what was created as a four-lane highway was softened as it wove through small towns. Using photographs in his presentation, Lockwood gave examples of how widened shoulders, the use of natural materials native to the region, and entry- and exit-feature zones created what he called a "context-sensitive design," that contributed to town centers increasing their walkability factor, while lessening disturbance caused by traffic.
"Local grass roots conservationists were up against conventional thinking, but over time, the people's vision prevailed," he told the audience.
Lockwood said that he supports the idea of placing roundabouts along the Route 41 corridor, as a means of slowing traffic down. "They don't break down, they don't require electricity, they can be incredibly safe, and they give the notion of traffic calming in order to reduce speeding," he said. "Nobody speeds up for a roundabout. That's why they have such stellar safety records. People go through them slowly. If there are accidents, they're much less severe."
Tim Stevenson, a representative from the Pennsylvania Department of Transportation (PennDOT), identified various improvements that the state agency is planning for the area. He said that during next spring, PennDOT will construct a roundabout at the intersection of Wawaset Road and Route 52, which he estimated will cost $2 million. He also said that PennDOT is about to enter the "listening" phase of projects along the Route 41 corridor that will ultimately improve traffic flow, including the re-design of the Route 926-Route 41 intersection.
"The first component of any project is identifying its purpose and needs, to gauge the community and ask what the needs are and capturing what those needs are," Stevenson said. "After receiving input from all townships, Penn DOT will then put together a purpose and needs statements sometime during the next few months, then plan some developments along intersection along Route 41."
Stevenson said the coordination between PennDOT and local resource agencies involved with such development is expected to take a few years.
Before introducing the speakers, S.A.V.E. Executive Director Julie Gardner said future development along Route 41 should be done in a way "that preserves our agriculture, enhances our villages and protects our environment."
Until recently, she said, local conservationists and planners could see few prospects for improvement along the corridor, but pointed to several recent initiatives that have been introduced into on-going talks. "In 2012, residents got their comments into the hands of the Delaware Valley Regional Planning Commission and PennDOT, asking for safety improvements and traffic calming," said Gardner, who also praised a letter that was written by elected officials from five area townships and circulated to PennDOT and state officials, asking for consideration of several design and safety initiatives for Route 41.
Ronald Bailey, executive director of the the Chester County Planning Commission, compared the commission's current projects to the legs of a stool, much of them on point with Minicozzi's presentation. "Our plan calls for investing in existing communities within the infrastructure of boroughs, to make investments in preserving farm land and open space, to investing in partners that assists municipalities to upgrade their ordinances, and protecting the quality of life within the county," Bailey said.
Minicozzi also spoke at "The Dollars and Sense of Land Use," a presentation sponsored by the Brandywine Conservancy Environmental Management Center on Nov. 9. The event, intended to explore how development patterns can impact community wealth, also featured a panel discussion with Minicozzi, Bailey, Bryn Mawr Economics professor David Ross and East Whiteland Township manager Terry Woodman.