A West Grove family reaches out in faith to children in China
11/13/2013 12:59PM ● By ACL
Children put a pile of leaves to good use during a clean-up day held last weekend.
By John Chambless
Staff Writer
With rakes and saws and a whole lot of hope, the Reed family spent Saturday building a bridge toward adopting two children from China.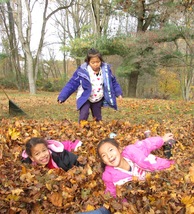 Wendy and Jeff Reed, who live in West Grove, have four biological children and four girls they have adopted from China. In a home that's already brimming with love and faith, they are reaching out to two more little souls on the other side of the world. After a year and a half of screenings, paperwork and payments, they are nearing the end of the adoption process for Joel and Sophia, who are waiting to be the ninth and tenth children in the Reed family.
But first, a few miracles are needed.
On Nov. 9, Wendy and Jeff took a few minutes away from doing yard work at the Landenberg home of a widow who attends their church, the Avon Grove Church of the Nazarene. Tackling the work were the pastor and several of the family's friends from their church, along with friends from Stillwater Presbyterian Church.
Nearby, the whole Reed family was working -- or playing -- in the yard, with the youngest children darting over occasionally to ask questions or check in with their parents.
The Reeds have four children of their own -- Brianna, 18, Justin, 16, Alyssa, 14, and Mikayla, 10.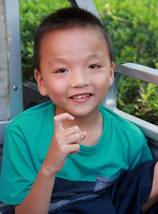 Brianna has worked to overcome her learning disabilities, and Mikayla has Down Syndrome and a heart defect that required surgery when she was only five months old. Wendy writes on the family's website that "Mikayla has shown us the wonder and beauty of parenting a child with special needs and opened our hearts towards adopting a child with special needs."
In 2006, the Reeds adopted Jenna, now 8, from Guangdong Province in China. She was born with a corneal defect and is blind in her right eye. She's a third grader at Avon Grove Charter School. In 2007, the Reeds added Sadie, now 7, to their family. She was adopted from Gansu Province, and has had surgeries to repair a cleft lip and cleft palate, as well as a minor heart defect. In 2009, they adopted Ellie, now 13, from Guangdong Province. She has a repaired cleft lip, and she has cerebral palsy that affects the left side of her body.
Then, in 2011, the Reeds adopted Khloe, now 6, who has blossomed since arriving in America, overcoming sensory defects, Down Syndrome and a very delayed start in life. She is learning sign language and has recently begun walking independently for short distances. "She came to us like a 12- to 18-month-old baby, and she was 4. But with a lot of love and attention, she has made such great strides," Wendy said.
The adoption of Khloe led the Reeds to Joel, who was Khloe's foster brother in the home the Reeds visited in China.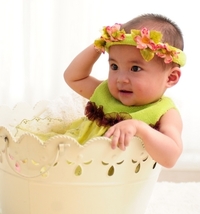 "We thought we were done two years ago," Jeff said. But the chance meeting with Joel, who has spina bifida and scoliosis, changed their minds. "It took us a year and a half before we said we were definitely going back and adopting Joel," he said.
While it can take more than five years to adopt a non-special needs child from China, children with disabilities are fast-tracked, to an extent. The Reeds have been working for a year and a half to get Joel and Sophia into their home. The final round of paperwork is in progress, and all that's needed is money.
"Before we even got married, we felt that if we couldn't have our own family, we'd want to adopt," Jeff said. "China was a country we were both interested in -- the culture and the history."
"We knew about the one-child policy there," Wendy added. "Also, many children with special needs were available for adoption."
The Reeds smiled and admitted that their Chinese is limited. They have gradually learned enough to communicate with their adopted daughters, and the children are now fluent in English.
"You can say the same word in Chinese, and it can mean mother, or it can mean goat," Wendy said, laughing. "You have to be careful."
Joel, who is housed in an American-run foster home, will know English when he arrives.
"It's definitely more difficult for an older child to assimiliate, rather than a younger child," Wendy said. "Our daughter Ellie was 8 when we adopted her, and she spoke all Chinese, other than 'Hi, how are you?' That's what they considered 'limited English,'" she said, laughing. "I'd consider that 'No English.' But she picked up English very quickly."
Ellie had a rough start with the Reeds, with previously undisclosed attachment issues that made for "at least two very difficult years," Wendy admitted. "But pre-adoption education is essential. You need to go in with eyes wide open, and you need to be willing to take on whatever challenges come your way -- just as you would with a birth child."
After meeting Joel and Sophia, the Reeds thought long and hard about the additional financial burden of bringing them to America. Jeff had lost a job, but quickly found another one in his field, pharmaceutical research, which the Reeds took as a good sign. While the Reeds were largely debt-free after adopting their four previous children, this time they need an additional $30,000 to finalize the adoptions of Joel and Sophia.
"The orphanage donation fees alone are $5,600 per child," Wendy said. "What that's supposed to do is cover their child-rearing fees, as well as support the orphans who are still there."
"We thought we'd have more time to save," Jeff said, "but this adoption came up more suddenly than we thought."
Rather than hold back from what they see as God's plan for their family, they are assuming that the money will come. To help things along, they are working as hard as they can to raise funds. On Nov. 9, they cleaned the yard of a widow after they solicited pledges for their work, similar to people who run a 5K to raise money for charity. In this case, the money pledged will go into the Reeds' account at Reece's Rainbow, a non-profit organization that holds money donated to families who are adopting children with special needs.
Alyssa Reed makes and sells custom bracelets in a rainbow of colors for $5 each,  and the family also sells hair bows and clips called Ribbons of Love. On Nov. 15 and 16, the Reeds will have tables set up at the Avondale Presbyterian Church Craft Fair.
The financial goal might seem insurmountable, but the Reeds have unshakable faith.
"If 3,000 people donated $10 or $15, the entire adoption would be covered," Wendy said.
Adding to the urgency is Sophia's heart defect, which is considered inoperable in China, but could be completed by a California surgeon that the Reeds have contacted. While Sophia is stable for now, the condition could be fatal at any time, so the Reeds are aware that the clock is ticking.
If all goes well and God answers their prayers, Wendy and Jeff will be picking up Joel and Sophia in February and bringing them home, Jeff said.
"I often think that people believe it would take a huge donation to make a big difference, but if everybody was willing to give just a little, we wouldn't have to worry," Wendy said. "We absolutely have faith. That's the only way we could do this."
The Avondale Presbyterian Church (420 Pennsylvania Ave., Avondale) will host its Craft Fair and Christmas Bazaar on Nov. 15 from 5 to 8 p.m. and Nov. 16 from 9 a.m. to 3 p.m. There will be more than 50 crafters and vendors, including the Reed family. There will be a basket raffle, a white elephant sale, and lunch items for sale. Part of the proceeds benefit the church's building fund. For more information, visit www.avondalepc.org.
For an update on the Reed family, visit their website, called www.immeasurablymorethanwecanimagine.com.