Hopewell Elementary School is red all over to prevent drug use
11/06/2013 05:27PM ● By ACL
Pictured during 'Rally in Red Day' assembly at Penn's Grove Middle School are, from left, Hopewell Elementary School counselor Krista Gioffre, who organized Red Ribbon Week with physical education teacher Erika Seaman; Student Council members Dustin Jones, Julia Nask, Olivia Omara and Gabby Lombardi; Oxford Police Department Officer Chris Coverly; council members Ben Carey, Brian Brower and Sydney Herrera, and Principal Nicole Addis.
Hopewell Elementary School celebrated Red Ribbon Week from Oct. 15 to 18. The event began with "Dress Alike Day," on which friends were asked to dress alike to introduce the week's theme of  "Keep Your Friend Off Drugs."
Other activities included "Maroon and White Day" and "Crazy Socks and Slippers Day." The week concluded with "Rally in Red Day," when the fifth and sixth graders participated in an assembly by Oxford Police Department officer Chris Coverly.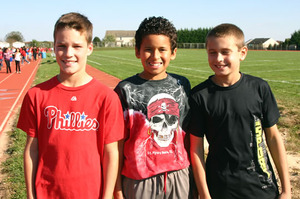 Officer Coverly spoke with the students about the issues they may face now or as they continue to middle and high school, including physical and internet safety, drugs and alcohol, and bullying, often referring to his own experiences growing up in Camden, N.J. He also encouraged students to reject the illusions about who they should be that are created by the media -- and often spread unknowingly by their peers. Following the assembly, the Hopewell students and staff held a Unity Walk at the Oxford Area High School football stadium.
Red Ribbon Week is the oldest and largest drug prevention campaign in the United States, and serves as a vehicle for communities and individuals to support drug prevention initiatives and education and make a personal commitment to live drug-free lives.