Chinese delegation learns about business during three-day tour of Chester County

11/06/2013 02:48PM, Published by ACL, Categories:
---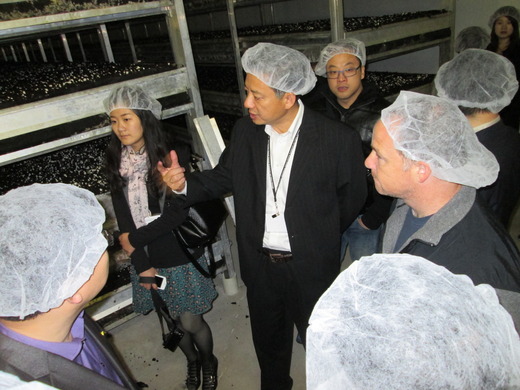 Steve Cheng (center) translates for Chris Alonzo (right) during a tour of Pietro Mushrooms.
---
---
By John Chambless
Staff Writer
A delegation of 25 men and women from China spent three days last week touring Chester County, taking away a clear picture of how education, manufacturing, agriculture and tourism operate here. The contacts forged during the exchange may someday lead to new businesses linking China and America.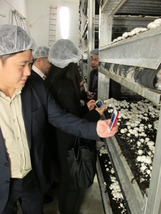 The first Sino-American Regional Business and Cultural Exchange was arranged by several groups, including the Chester County Commissioners, the Chester County Economic Development Council, the Chester County Chamber of Business and Industry, ABD International and the Main Line Chinese Culture Center.
The group of visitors from the Chongqing region paid their way to the United States, where they had three busy days of seeing how businesses operate here. Chester County Commissioner Terence Farrell accompanied the group, which got a tour of the QVC headquarters in West Chester on Oct. 28, and toured Westtown School and West Chester University on Oct. 29. On Oct. 30, the group started their day at Pietro Mushrooms, then toured the New Bolton Center, learned about the agriculture industry at Lincoln University, and ended their American visit with a tour of Longwood Gardens and the Chester County International Business Council dinner, which was held at Longwood.
At the Pietro Industries mushroom facility in Kennett Square, owner Chris Alonzo worked with the group's translator, Steve Cheng, to explain how Pietro processes some 30,000 pounds of white mushrooms per day, shipping them to Country Fresh Mushrooms. Fresh mushrooms, he explained, have a shelf life of only about a week, so speed is an essential part of shipping them.
Mushrooms are an increasingly popular part of the Chinese diet, Cheng explained, with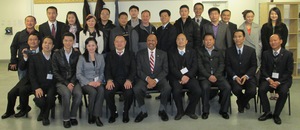 consumption rising at about 10 percent a year due to an emphasis on healthier eating. Mushrooms are a big crop in China, but the delegation saw some state-of-the-art technology at Pietro, where mushrooms are grown in huge stacks of compost-filled shelves.
The delegation members snapped photos of everything, especially the room where thousands of white mushrooms were peeking out of the compost. Many of them asked questions as the group walked from one room to another. The visit ended with a group photo, after which several of the Chinese business people gave their cards to Alonzo. "They want to start a business with you," Cheng told him, smiling.
"Well, there are some issues, but we can definitely talk," Alonzo responded, taking the cards and shaking hands with the enthusiastic group.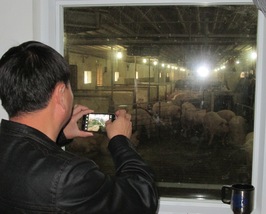 Traveling by bus, the group then went to the University of Pennsylvania's New Bolton Center in Kennett Square, where Gary Althouse, the chairman of the department of clinical studies, explained the scope of the renowned veterinary school and research center. Althouse joked about the connection of New Bolton to the mushroom industry. "This is one of the few places where you can make money from horse manure," he said.
The group took a bus trip to the New Bolton swine teaching and research unit, where they took photos and learned about how the pigs are being raised humanely, without pens that restrict their movement. Later, at the Marshak Dairy on the New Bolton grounds, Meggan Hain, the dairy coordinator, spoke briefly about the many cows that are raised at the facility. The small outdoor pen where two calves were being held got a lot of attention from the visitors.
While the three-day tour was very busy, the chance to meet business and industry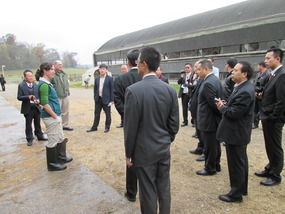 representatives was a valuable connection, said Rebecca Brain, the public information officer for the Chester County Commissioners. She accompanied the group for three days, taking photos and keeping the visitors on schedule.
"It's a mututal opportunity," she said. "A lot of it is fact-finding, trying to find out a little bit more about business practices. A couple of them have very definite desires to come over here to invest, to try to break into the American market. They're also very interested in the education systems.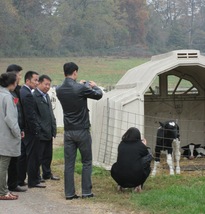 "Their region of China is very strong agriculturally," Brain added. "They grow a lot of rice there. There's one delegate who has a very well-known duck farm there, and he's very interested in seeing how his company can set up over here. I think their hope is that this is the first of many exchanges to come."
---
---
---
chester county commissioners sino-american regional business and cultural exchange chester county economic development council chester county chamber of business and industry abd international main line chinese culture center
---