'Small things with great love'
10/23/2013 02:03PM ● By ACL
Landenberg artist Nanci Hersh's book, "Butterfly Kisses and Wishes on Wings," now in its fifth printing, gives parents affected by cancer a way to share their diagnosis with their young children.
By Richard L. Gaw
Staff Writer
Until the day she was first diagnosed with breast cancer in 2002, nearly everything in Nanci Hersh's life was perfect.
At 42, she was the married mother of two small boys, Griffin and Nate, and her artistic career as a painter, illustrator and sculptor was in happy overload. She was teaching art at Monmouth University near her home in Red Bank, N.J., and she was in perfect health through a vegetarian diet, meditation and yoga.  A routine mammogram revealed that there were calcifications in one of her breasts. The news of her diagnosis quickly spread from family member to family member, all except Griffin and Nate.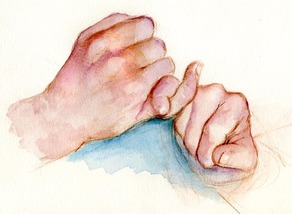 Her cousin Ellen McVicker, a long-time professional in the medical industry in Colorado, was among the many friends and family who reached out to Hersh. She, like Hersh, was the mother of two young boys. "I told Ellen, 'I just don't know how I am going to tell my boys," Hersh said.
The story came to McVicker in a dream, one that began with the words, "The other day my mom went to the doctor." She soon finished the story and e-mailed it to Hersh, who still had not told her sons about her diagnosis. "Two weeks later, I sat my boys down on a bed and read Ellen's story to them. In fact, for the next few months, I used her words a lot."
McVicker's words resonated with both tenderness and explanation. Told from a young boy's perspective, the story unfolds with the child being told that "the doctor said my mom has cancer."  The boy learns that the human body is made up of millions of cells, and that cancer happens when the good cells in the body change to bad cells. The child is introduced to chemotherapy through radiation, described in the book as "a toy laser sword," and it dispels a child's fear that he or she may have caused their mother's illness, and that it is not contagious.
Neither Hersh or McVicker had come across any childrens' books devoted to the subject of cancer, and they both knew that this story needed to become a book, the first of its kind.
For the next few years, revisions to McVicker's story and Hersh's illustrations went back and forth between Colorado and New Jersey. Throughout the course of her treatment, the skills that Hersh had as an artist not only served the artistic vision for the book, but served as healing agents throughout chemotherapy and recovery.
"Everything starts with the 'Why?' and my 'Why?' has been to connect, heal and transform," she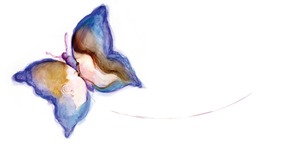 said. "As I see my work reaching more people, the word may be 'Inspire.' My gift did heal me, but more importantly, it has enabled me to help others through connection. If you come with an open mind and are receptive to connection, then there is a transformation."
Soon after her diagnosis, before the idea of the book had even reached the planning stage, Hersh made a sketch of a butterfly. Its' wings were tight and closed. She called it 'Chrysalis," and it would represent for her a symbol of healing. "I was having the sense that I was closing up inside and allowing myself to heal," Hersh said recently from her home in Landenberg. "I hoped that I would soon be able to heal and become like a butterfly, and begin flying."
Ironically, the butterfly later figured prominently in the book; in fact, it flies through every page. Since it was originally published in 2006, "Butterfly Kisses and Wishes on Wings" has been reprinted five times and reached thousands of families affected by cancer, and at nearly every book signing and reading, the recurrent theme of the butterfly is among the most frequently-discussed subjects. "I've had so many people come up to me at readings and book signings, telling me about their connection to butterflies," she said.  
Having survived a second bout with breast cancer two years ago, Hersh said she has no time in her life to let cancer hold her back, and her continuing career as an artist is clear proof. She is currently preparing several upcoming gallery shows in Milford, Del., at the Delaware Center for Creative Arts in Wilmington, at the Project Space DE in Wilmington, and at the Mala Gallery in Kennett Square.
"Butterfly Kisses and Wishes on Wings," however, continues to influence thousands. McVicker has received tubs filled with letters from children, who tell her how much the book has impacted them and their families. Eight years after the book was first published, Hersh still receives letters from readers who say that the book helped them communicate with their young children about cancer. The Helen F. Graham Cancer Center in Wilmington has purchased cartons of books to hand out to their patients. McVicker and Hersh donate books to hospitals across the United States and in other countries.  
"We're thinking, 'What now?'" Hersh said. "We'd like to reach as many people as possible. We've reached out to television shows, to those in the pharmaceutical industry. We want to reach out to one person who can distribute that book to every child whose family is affected by cancer. We would love to have it become 'the' book for families affected by cancer, but even if we're not, then I know that we've touched eight to ten thousand people on a grass roots level. But we can only do small things with great love.
"The book has wings. It finds its way to the people who need it."
For more information about "Butterfly Kisses and Wishes on Wings," visit www.butterflykissesbook.com. For a look into the artwork of Nanci Hersh, visit www.nancihersh.com.