Memorial walkway honors residents of Luther House
10/09/2013 02:20PM ● By ACL
Art Knechtel (left) and Lou Wonderly at the Luther House gazebo and memorial walkway.
By John Chambless
Staff Writer
The families of people who have lived at Luther House in West Grove have a way to memorialize their loved ones. A memorial walkway has been in the planning stages for a year, and now bricks are available that will be engraved with a person's name and dates of their birth and death. The bricks will line the edges of a walkway near a gazebo and community garden in the middle of the four Luther House buildings.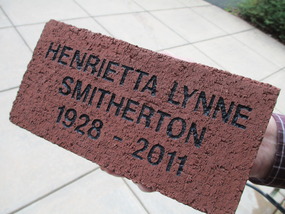 "In the past, we have had requests from people for memorial trees, and we have a bunch of memorial benches, but we ran out of bench slots and tree slots. So we have about 600 of these bricks available," said Art Knechtel, the treasurer of the Luther Foundation. "The problem that we've had is a lot of the families have no connection here anymore, so we're trying to get the word out to them."
The bricks are $30, which just covers the cost of engraving and installation, Knechtel said. No profit is being made on them. He and resident Lou Wonderly have been the driving force behind the memorial walkway plan, and they emphasized that the bricks are intended as a memorial for people only, not for beloved pets. "It's a memorial for residents who have lived here for part of their life, and have passed away," Knechtel said.
The gazebo and nearby garden are a focal point for the buildings, and the screened gazebo is a comfortable place to sit and reflect. Families of anyone who has lived at Luther House can call Art Knechtel (610-388-6068) or Diane Berquist (610-869-4240) for information about purchasing a memorial brick for the walkway.