Hetro takes top spot in 2013 Oxford Run
10/04/2013 12:03AM ● By ACL
Nearly 150 runners ran the 5K event during the Oxford Run.
By Steven Hoffman
Staff Writer
Nick Hetro finished first overall in the 12th annual Oxford Run on Sept. 28, completing the 5K event in just 17:41.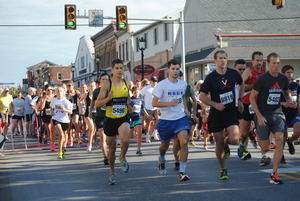 The Oxford Run attracted 147 runners as well as dozens of other men, women, and children who walked the 5K course, participated in the dash, or strolled with their dogs in the Whisker Walk.
"It was a great event," said Sue Cole, the executive director of Oxford Mainstreet, Inc., the organization that planned the Oxford Run. "We had the weather on our side today."
Hetro, a resident of Frederick, Md., regularly competes in triathlons and was able to make his way toward the front of the pack quickly.
"I was with the lead group up until mile two," Hetro explained. Then he put some distance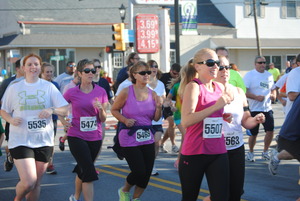 between himself and the other top runners, Bryant Wilson and Anthony Terranova. Hetro said that Wilson and Terranova would surge ahead whenever they were running up hills, but Hetro would gain ground when they went downhill. He said that it was great to be able to run with Wilson and Terranova because they could push each other.
"I'm pretty pleased with the result," he said. "It was great to run with those guys."
Hetro, who is sponsored by Mercury Endurance of Hagerstown, runs about 25 miles a week, bikes another 80 miles on average, and swims for 8 miles.
Wilson, a resident of Oxford, would eventually take second place by finishing the 5K in 18 minutes flat. Terranova, who is to the Oxford Run what the New York Yankees are to baseball, finished in third place after a long series of first-place finishes.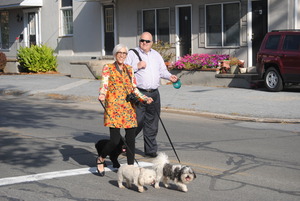 Wilson said that he was pleased with his performance.
"My goal was to come in as one of the top runners," Wilson said, "so I guess I am satisfied."
Wilson was the second place finisher in 2012 as well. He said that he liked the new U.S. Track & Field-certified course that was introduced this year.
So did Gavin Coates, an Oxford resident who has participated in at least the last six Oxford Run events. Competing in the 40-and-over category, Coates said that he was hoping to finish with a time under 19 minutes. He completed the course in 18:55, which was good for fifth place overall.
"This is my fastest time ever," said Coates. "The competition is getting better. It's an awesome event for the community."
Fifteen-year-old Elizabeth Six posted a blazing time of 22:52 to finish as the top overall female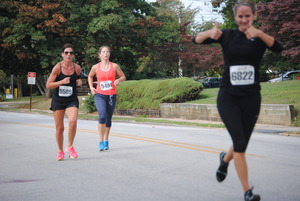 runner. Melanie Hostetter finished in second place.
Six, a resident of Stewartstown, Pa., is a member of the Lancaster County Young Marines Program who wants to join the Marine Corps in the future. Six said that she was hoping for a time under 25 minutes, but found the course to be very much to her liking and blew past that goal.
Jamie Cole serves as a staff member of the Lancaster County Young Marines Program. After the race, he told Six that every time he saw her during the race she was running so fast that her ponytail was blowing straight back.
Cole, an Oxford Borough Council member, has run in the race in the past, but this year he volunteered with OMI. He said that it was good to see local businesses, including Flowers Foods (the parent company of Tasty Baking) and Herr Foods have employees who volunteered or participated in the run.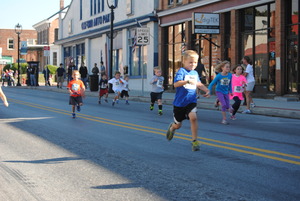 "It's great to see businesses involved like that," he said.
Dozens of people participated in the Oxford Feed & Lumber's Whisker Walk, which was in its fifth year this year.
Another popular event of the Oxford Run was the dash for youngsters, which showed that the next generation of Oxford Run participants will soon be turning in record-breaking times.
The extraordinary weather—partly sunny with temperatures in the seventies—was ideal for a 5K.
"I think this is the best weather that we've ever had for the event," said Christine Grove, a former Oxford Mainstreet executive director who now serves as the managing director of the Oxford Arts Alliance. "It's such a great event."
Grove, like Jamie Cole, said that it was great that local businesses like the Tasty Baking Company participated in a variety of ways.
There were several vendors set up to promote good health.
James and Kim Boyes were among the vendors at the event. They were promoting James'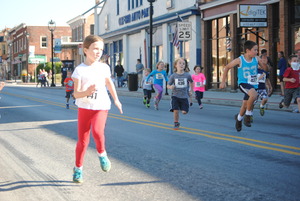 Oxford-based company, That's Why I Run.
Kim said that her husband started the company about a year ago after he took up running to deal with the loss of his parents, who both died within a year of each other.
They sell T-shirts that have different inspirational quotes on them and promote the idea of running as an important part of a healthy lifestyle.
Kim said that running has served as a kind of therapy for her husband.
"He was having a hard time dealing with the loss and I suggested that he take up running," she explained. "Now he runs every day, at lunch and at night. Last year, his goal was 1,000 miles. This year it's 1,250 miles."
Proceeds from the Oxford Run support the activities of OMI. Dozens of sponsors supported the event this year. ATI Physical Therapy once again helped organize the registrations during the day of the race.
Jen Zambito, a clinical director at ATI Physical Therapy, said that it's important to play a part in the Oxford Run because it supports the Oxford community and promotes a healthy lifestyle.