By Steven Hoffman
Staff Writer
Hornet pride was on full display last Friday night as Oxford celebrated the 2013 Homecoming.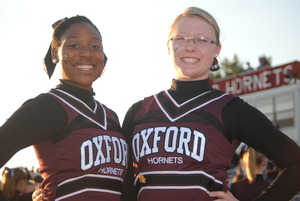 A parade kicked off the festivities at 5:30 with the Oxford Area High School Marching Band leading the way. Members of the Homecoming Court—Mariah Jardine, Mary Williams, Sabrina Wooding, Alex Fernandez, Alyssa Sniechoski, Ethan Herb, Chris Chavez, Ryan McMichael, Musty Mahmud, Erik Gormley—followed the band. Each class in the high school decorated a float for the parade. The floats had board game themes—the senior class entry was decorated like Candyland. The junior class selected Monopoly for their float, while Battleship was featured on the sophomore float. The freshman class chose Scrabble for their float. Cheerleaders added enthusiasm and showmanship to the parade. Youngsters were captivated by the fire trucks and their flashing lights.
Crowds gathered at Third Street and in front of the Oxford school campus to watch the parade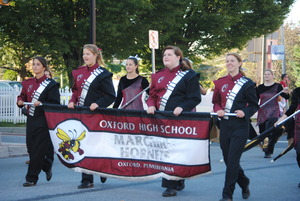 as it moved from Oxford Memorial Park to the football field. Residents who live in town had the fortune of being able to view the parade from their front yards as the parade participants marched by them.
There was plenty of excitement surrounding this year's Homecoming.
"I definitely think this homecoming is the best one for me," said Taja White, a senior cheerleader. "I had a blast at the pep really."
"This year, we all wanted to make memories at Homecoming because it's our last one," said Kaylee Goodwin, also a senior on the cheerleading squad.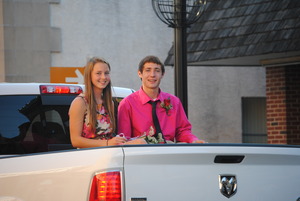 The excitement even extended to the community. Mary Beth Morrison and Desiree Stanley were watching the parade from outside their new business, Glimmer Boutique Consignment, at 322 Hodgson St.
"We are so excited to see the Homecoming," said Stanley, who was the Homecoming Queen for Oxford Area High School in 1987.
"We are both Oxford alums," said Morrison.
"We're still supporting the Hornets!" Stanley exclaimed.
The swiftly moving parade reached the football field by 6 o'clock, where a standing-room-only crowd was already starting to fill the stands.
Goodwin said that she thought the Oxford football team's strong start to the 2013 season played a part in the excitement for the event.
"They are 3-0 and this is our Homecoming," Goodwin said. "You could tell that the football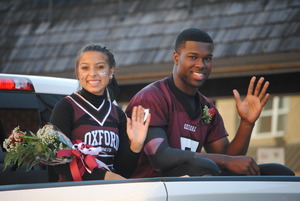 players were very motivated. They wanted to be here at the field practicing and working to get ready for the game."
As the game time approached, there was a buzz about the Hornets football team, the game, and the school. White succinctly summed up the mood when she exclaimed, "Go Hornets!"
At halftime of the football game, the junior class pulled off an upset and won the parade float competition. The sophomores took second place. The senior class, however, did win the spirit stick during the week of Homecoming activities.
The crowning moment of the Homecoming celebration came when Chavez and Williams were named the Homecoming King and Queen.